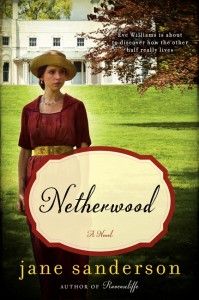 About Netherwood
• Paperback: 464 pages
• Publisher: William Morrow Paperbacks (December 31, 2013)
Two remarkably different worlds—one of wealth and privilege, the other of poverty and desperation—are about to collide in one shattering moment in this mesmerizing tale of high drama, forbidden love, and families fighting to hold on to what they have
Upstairs: Lord Netherwood, a coal baron, earns his considerable wealth from the three mines he owns. Supplying a bustling industrial empire with the highest-quality coal keeps his coffers filled—money he needs to run his splendid estate, Netherwood Hall, and to dress his wife and daughters in the latest fashions. And keeping his heir, the charming but feckless Tobias, out of trouble, doesn't come cheap.
Downstairs: Eve Williams, the wife of one of Lord Netherwood's most stalwart employees, cleverly manages her family's well-being on the low wages her hardworking husband earns in the mines. But when her ordered life amid the terraced rows of miners' houses is brought crashing down by the twin arrivals of tragedy and charity, Eve must look to her own self-sufficiency and talent to provide for her three young children.
And soon the divide between "upstairs" and "downstairs" is about to close . . . and neither world will ever be the same.

About Ravenscliffe
• Paperback: 544 pages
• Publisher: William Morrow Paperbacks (January 28, 2014)
For fans of Downton Abbey . . . The peaceful beauty of the English countryside belies the turmoil of forbidden love and the apprehension of a changing world for the families of Netherwood
Yorkshire, 1904. On Netherwood Common, Russian émigré Anna Rabinovich shows her dear friend Eve Williams a gracious Victorian villa—Ravenscliffe—the house Anna wants them to live in. There's a garden and a yard and room enough for their children to play and grow.
Something about the house speaks to Anna, and you should listen to a house, she believes…Ravenscliffe holds the promise of happiness.
Across the square, Clarissa and her husband, the Earl of Netherwood, are preparing for King Edward's visit. Clarissa is determined to have everything in top shape at Netherwood Hall—in spite of the indolent heir to the estate, Tobias, and his American bride—and much of it depends on the work going on downstairs as the loyal servants strive to preserve the noble family's dignity and reputation.
As Anna restores Ravenscliffe to its full grandeur, she strikes up a relationship with hardworking Amos Sykes—who proposed to Eve just one year ago.
But when Eve's long-lost brother Silas turns up in their close-knit mining community, cracks begin to appear in even the strongest friendships.
As change comes to the small town and society at large, the residents of Netherwood must find their footing or lose their place altogether.
About Jane Sanderson
A former BBC radio producer, married to author and journalist Brian Viner, Jane Sanderson has used some of her own family history as background for her first novel.
Find out more about Jane at her website and follow her on Twitter.
Jane's Tour Stops
Netherwood
Tuesday, January 14th: No More Grumpy Bookseller
Wednesday, January 15th: BookNAround
Thursday, January 16th: Drey's Library
Monday, January 20th: She's Got Books on Her Mind
Tuesday, January 21st: Ageless Pages Reviews
Wednesday, January 22nd: Bibliophilia, Please
Thursday, January 23rd: Mom in Love With Fiction
Monday, January 27th: Svetlana's Reads and Views
Monday, January 27th: Mel's Shelves
Ravenscliffe
Tuesday, January 28th: No More Grumpy Bookseller
Wednesday, January 29th: BookNAround
Thursday, January 30th: Ageless Pages Reviews
Tuesday, February 4th: Mel's Shelves
Wednesday, February 5th: Bibliophilia, Please
Friday, February 7th: Svetlana's Reads and Views
Thursday, February 13th: Mom in Love With Fiction