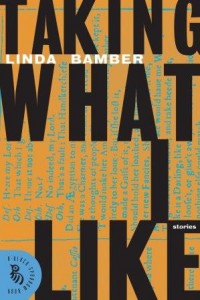 About Taking What I Like
• Paperback: 256 pages
• Publisher: Black Sparrow Press (October 22, 2013)
An NPR Selection for Best Forthcoming Fiction of 2013
Linda Bamber's stories re-imagine eight Shakespeare plays, alternating between admiration and irreverence, mocking, mirroring and showcasing the pleasures of the plays. Emotional and genuine, these stories are at the same time inventive, surprising and "laugh-out-loud funny," according to one reviewer. The cast of Othello is a college English department navigating an affirmative action search; the protagonist from As You Like It dates three men from Henry IV; and inmates at a Missouri prison put on a production of Hamlet. Included in the collection are similar riffs on Charlotte Bronte's Jane Eyre and works by the American artist Thomas Eakins.
As entertaining and contemporary as these stories are, they also remind us what we, too, love about the classic texts Bamber takes apart and reassembles. Her narratives are laced with commentary, history and politics, connecting our present concerns to those of the past. Issues of gender, race and power make this a timely companion to the older works.
Praise for Taking What I Like: 
"I've never read anything quite like these stories. They have attitude, they shake things up. They're playful and inventive and funny, and have the same effect as when you see a great production of a Shakespeare play. It makes the work come alive!"  –Ben Fountain on All Things Considered, NPR
"Inventive, playful and emotionally resonant!" — Eva Hoffman, author of Lost in Translation and Appassionata
"Deeply insightful comments on some of Shakespeare's major plays."  — Sylvan Barnet, General Editor, The Complete Signet Shakespeare
About Linda Bamber
Linda Bamber is a fiction writer, poet, and essayist and a Professor of English at Tufts University. Her recent fiction collection, Taking What I Like (David R. Godine), includes re-inventions of six Shakespeare plays, a riff on Jane Eyre, and a fictional look at the work of Thomas Eakins. She is the author of Metropolitan Tang: Poems (David R. Godine) and the widely reprinted Comic Women, Tragic Men: Gender and Genre in Shakespeare (Stanford University Press). She has published extensively in literary journals such as The Harvard Review, The Kenyon Review, Ploughshares, and Raritan, as well as traditional media such as The New York Times, The Nation, Tricycle, and Tikkun.
Find out more about Linda at her website.
Linda's Tour Stops
Tuesday, January 7th: Read. Write. Repeat.
Wednesday, January 8th: Unabridged Chick
Thursday, January 9th: Bibliotica
Monday, January 13th: cupcake's book cupboard
Tuesday, January 14th: Conceptual Reception
Wednesday, January 15th: 5 Minutes For Books
Thursday, January 16th: SusieBookworm
Tuesday, January 21st: BoundbyWords
Wednesday, January 22nd: Literally Jen
Thursday, January 23rd: Savvy Verse & Wit
Monday, January 27th: Dwell in Possibility