Print Length: 319 pages
Publisher: Layla Dog Press
Remy Alexander was born into the elite meritocracy of the Okarian Sector. From an early age, she and her friends were programmed for intellectual and physical superiority through specialized dietary regimes administered by the Okarian Agricultural Consortium. But when her older sister Tai was murdered in a brutal classroom massacre, her parents began to suspect foul play. They fled the Sector, taking their surviving daughter underground to join the nascent Resistance movement. But now, three years later, Remy's former schoolgirl crush, Valerian Orleán, is put in charge of hunting and destroying the Resistance. As Remy and her friends race to unravel the mystery behind her sister's murder, Vale is haunted by the memory of his friendship with Remy and is determined to find out why she disappeared. As the Resistance begins to fight back against the Sector, and Vale and Remy search for the answers to their own questions, the two are set on a collision course that could bring everyone together—or tear everything apart.
In this science-fiction dystopia, the mother-daughter writing team of Kristina, Amira, and Elena Makansi immerses readers in the post-apocalyptic world of the Okarian Sector where romance, friendship, adventure, and betrayal will decide the fate of a budding nation.
About K. Makansi
K. Makansi is the pen name for the mother-daughter writing team of: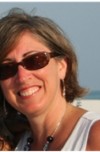 Kristina Blank Makansi – Born and raised in Southern Illinois, Kristina has a B.A. in Government from University of Texas at Austin and a M.A.T. from the College of New Jersey and an opinion on everything. She has worked as a copywriter, marketing coordinator, web and collateral designer, editor, and publisher. In 2010, she co-founded Blank Slate Press, an award-winning small press focusing on debut authors in the greater St. Louis area, and in 2013, she co-founded Treehouse Publishing Group, an author services company assisting both traditionally and self-published authors. In addition to The Seeds Trilogy, she is hard at work revising her historical fiction, Oracles of Delphi, set in ancient Greece.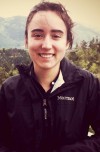 Amira K. Makansi – Amira graduated with honors in three years from the University of Chicago where she earned a BA in History and was a team leader and officer for UChicago Mock Trial. She has served as an assistant editor and has read and evaluated Blank Slate Press submissions since the press was founded. She is an avid reader and blogger who also has a passion for food, wine, and photography. She has worked at wineries in Oregon and France and is approaching fluency in French. Along with working part-time for BSP, she works for a wine distributorship in St. Louis. In addition to The Seeds Trilogy, she reviews books and blogs about writing, food and wine at The Z-axis.  


Elena K. Makansi – Elena is a senior at Oberlin College where she is focusing on Environmental Studies especially as it relates to her passion–food justice. She's also studied studio art and drawing and has had her work featured in several college publications. While in high school, she won numerous writing and poetry awards, was awarded a scholarship to attend the Washington University Summer Writing Institute and attended the Iowa Young Writers Studio. She also won a scholarship to represent her Amideast cohort as the "resident" blogger during her study abroad in Amman, Jordan. She and Amira backpacked through Europe together and share a passion for cooking, baking–and, yes, eating. Elena maintains a Tumblr and a blog, Citizen Fiddlehead, about food and other topics.
K. Makansi's TLC Book Tours TOUR STOPS:
Monday, November 18th:  Bibliotica
Monday, November 18th:  Priscilla and her Books
Tuesday, November 19th:  Kritter's Ramblings
Thursday, November 21st:  The Best Books Ever
Monday, November 25th:  Simply Stacie
Tuesday, November 26th:  Cheryl's Book Nook
Wednesday, December 4th:  Let Them Read Books
Thursday, December 5th:  Ageless Pages Reviews
Monday, December 9th:  Patricia's Wisdom
Tuesday, December 10th:  Jenn's Bookshelves
Wednesday, December 11th:  Bound by Words
Thursday, December 12th:  Allodoxophobia
Monday, December 16th:  A Novel Idea
Wednesday, December 18th:  Bibliophilia, Please
Thursday, December 19th:  My Tangled Skeins Book Reviews