About We Are Water
• Hardcover: 576 pages
• Publisher: Harper (October 22, 2013)
In middle age, Anna Oh—wife, mother, outsider artist—has shaken her family to its core. After twenty-seven years of marriage and three children, Anna has fallen in love with Vivica, the wealthy, cultured, confident Manhattan art dealer who orchestrated her professional success.
Anna and Viveca plan to wed in the Oh family's hometown of Three Rivers in Connecticut, where gay marriage has recently been legalized. But the impending wedding provokes some very mixed reactions and opens a Pandora's Box of toxic secrets—dark and painful truths that have festered below the surface of the Ohs' lives.
We Are Water is an intricate and layered portrait of marriage, family, and the inexorable need for understanding and connection, told in the alternating voices of the Ohs—nonconformist Annie; her ex-husband, Orion, a psychologist; Ariane, the do-gooder daughter, and her twin, Andrew, the rebellious only son; and free-spirited Marissa, the youngest Oh. Set in New England and New York during the first years of the Obama presidency, it is also a portrait of modern America, exploring issues of class, changing social mores, the legacy of racial violence, and the nature of creativity and art.
With humor and breathtaking compassion, Wally Lamb brilliantly captures the essence of human experience in vivid and unforgettable characters struggling to find hope and redemption in the aftermath of trauma and loss. We Are Water is vintage Wally Lamb—a compulsively readable, generous, and uplifting masterpiece that digs deep into the complexities of the human heart to explore the ways in which we search for love and meaning in our lives.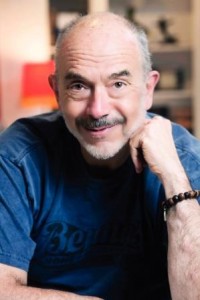 About Wally Lamb
Wally Lamb is the author of four previous novels, including the New York Times and National Bestseller, The Hour I First Believed and Wishin' and Hopin', a bestselling Christmas novella. His first two works of fiction, She's Come Undone and I Know This Much is True, were both number one New York Times bestsellers and selections of Oprah's Book Club. Lamb edited Couldn't Keep It to Myself and I'll Fly Away, two volumes of essays from students in his writing workshop at York Correctional Institution, a women's prison in Connecticut, where he has been a volunteer facilitator for fifteen years. He lives in Connecticut with his wife, Christine. The Lambs are the parents of three sons.
Connect with Wally on Facebook.
Wally's Tour Stops
Tuesday, October 15th: Love at First Book
Wednesday, October 16th: Alison's Book Marks
Thursday, October 17th: Read Lately
Monday, October 21st: A Bookish Way of Life
Wednesday, October 23rd: The Well-Read Redhead
Thursday, October 24th: West Metro Mommy
Friday, October 25th: Drey's Library
Monday, October 28th: Kritters Ramblings
Tuesday, October 29th: Bibliophiliac
Wednesday, October 30th: Booksie's Blog
Thursday, October 31st: Lit and Life
Monday, November 4th: Book-alicious Mama
Tuesday, November 5th: BoundbyWords
Wednesday, November 6th: Books Speak Volumes
Friday, November 8th: Peeking Between the Pages
Monday, November 11th: Book Hooked Blog
Tuesday, November 12th: Tiffany's Bookshelf
Wednesday, November 13th: Turn the Page
Thursday, November 14th: Dolce Bellezza
TBD: Girls Just Reading