About This is the Story of a Happy Marriage
• Hardcover: 320 pages
• Publisher: Harper (November 5, 2013)
Ann Patchett's novels have been feats of imagination—from the tale of an opera singer held hostage inside a vice presidential mansion, to a forgotten tribe along the banks of the Amazon river—she has created entire worlds for the reader to inhabit.  Now, with her new book, she puts fiction aside and invites us into the very real world of her own life.
This Is the Story of a Happy Marriage is both wide-ranging and deeply personal, overflowing with close observation and emotional wisdom. Stretching from her tumultuous childhood, from a disastrous early marriage and a later happy one, she charts the hard work and joy of writing, and the unexpected thrill of opening a bookstore. Patchett shares stories of the people, places, ideals, and art to which she has remained indelibly committed. Brimming with thoughtful advice and emotional wisdom, this collection brings into focus the large experiences and small moments that have shaped her as a daughter, wife, writer, and friend.
An irresistible blend of literature and memoir, This Is the Story of a Happy Marriage is a unique examination of the heart, mind, and soul of one of our most revered and gifted writers.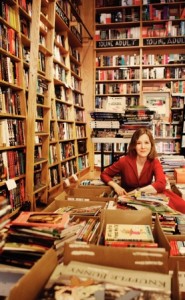 About Ann Patchett
Ann Patchett is the author of six novels: the New York Times bestselling State of Wonder and Run; The Patron Saint of Liars, which was a New York Times Notable Book of the Year; Taft, which won the Janet Heidinger Kafka Prize; The Magician's Assistant; and Bel Canto, which won the PEN/Faulkner Award, the Orange Prize, the BookSense Book of the Year, and was a finalist for the National Book Critics Circle Award. She is also the author of two works of nonfiction: the New York Times bestselling Truth & Beauty and What now? Patchett has written for many publications, including the Atlantic Monthly, Harper's Magazine, Gourmet, the New York Times, Vogue, and the Washington Post. She lives in Nashville, Tennessee.
Find out more about Ann on her website and follow her bookstore, Parnassus Books, on Twitter.
Ann's Tour Stops
Tuesday, November 5th: BookNAround
Thursday, November 7th: West Metro Mommy
Sunday, November 10th: Booksie's Blog
Tuesday, November 12th: Book Addict Katie
Thursday, November 14th: Book Snob
Monday, November 18th: Read Lately
Tuesday, November 19th: The Book Wheel
Wednesday, November 20th: The Lost Entwife
Monday, November 25th: Bibliophiliac
Monday, November 25th: Tiffany's Bookshelf
Tuesday, November 26th: My Bookshelf
Wednesday, November 27th: she treads softly
Thursday, November 28th: Dreaming in Books
Monday, December 2nd: Lesa's Book Critiques
Tuesday, December 3rd: A Bookish Way of Life
Wednesday, December 4th: Lit and Life
Thursday, December 5th: Becca's Byline
Saturday, December 7th: guiltless reading
Monday, December 9th: A Patchwork of Books
Tuesday, December 10th: nomadreader
Wednesday, December 11th: Book Hooked Blog