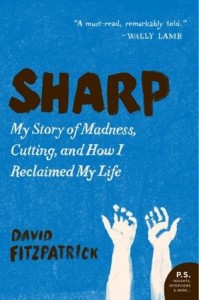 About Sharp
• Paperback: 368 pages
• Publisher: William Morrow Paperbacks (July 2, 2013)
"Endorphins sped through me. I spun around, growing dizzy, frantic, and silly. I wasn't drunk, but I felt a nice stoned feeling, sans paranoia, and I thought, 'I believe I've found my new pharmaceutical deep inside.' I giggled fearlessly, manically at this and looked down at myself; hands, arms, chest, and belly covered in crimson . . . "
In his early twenties, David Fitzpatrick became so consumed by mental illness it sent him into a frenzy of cutting himself with razor blades. In this shocking and often moving book, he describes the rush this act gave him, the fleeting high that seemed to fill the spaces in the rest of his life. It started a difficult battle from which he would eventually emerge with a knowledge that led to his own emotional resurrection.
With prose that is tough and gritty, profound and insightful, Sharp is a tale of hope, a soul-baring quest of a lost man who returns to himself, overcomes his demons, and reclaims his life.
About David Fitzpatrick
David Fitzpatrick was born in Dearborn, Michigan, grew up in Connecticut, graduated from Skidmore College, and earned his MFA degree from Fairfield University in 2011. He works part-time at an auto dealership and is married to a graphic designer and fellow writer, Amy Holmes. His work has been published by The New Haven Review, Barely South Review, and Fiction Weekly. He lives in Middletown, Connecticut.
David's Tour Stops
Tuesday, July 2nd: A Dream Within a Dream
Tuesday, July 30th: Book Hooked Blog
Thursday, August 8th: As I turn the pages
Thursday, August 22nd: Under a Gray Sky