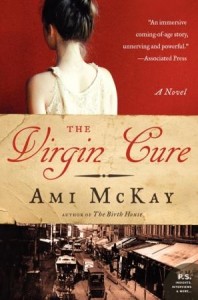 About The Virgin Cure
• Paperback: 352 pages
• Publisher: Harper Perennial (July 2, 2013)
One summer night in Lower Manhattan in 1871, twelve-year-old Moth is pulled from her bed and sold as a servant to a finely dressed woman. Knowing that her mother is so close while she is locked away in servitude, Moth bides her time until she can escape, only to find her old home deserted and her mother gone without a trace. Moth must struggle to survive alone in the murky world of the Bowery, a wild and lawless enclave filled with thieves, beggars, sideshow freaks, and prostitutes.
She eventually meets Miss Everett, the proprietress of an "Infant School," a brothel that caters to gentlemen who pay dearly for "willing and clean" companions—desirable young virgins like Moth. She also finds friendship with Dr. Sadie, a female physician struggling against the powerful forces of injustice. The doctor hopes to protect Moth from falling prey to a terrible myth known as the "virgin cure"—the tragic belief that deflowering a "fresh maid" can cleanse the blood and heal men afflicted with syphilis—which has destroyed the lives of other Bowery girls.
Ignored by society and unprotected by the law, Moth dreams of independence. But there's a high price to pay for freedom, and no one knows that better than a girl from Chrystie Street.
About Ami McKay
Ami McKay is the author of the number–one Canadian bestseller The Birth House, winner of three Canadian Booksellers Association Libris Awards, and a nominee for the International IMPAC Dublin Literary Award. Originally from Indiana, she now lives with her husband and two sons in Nova Scotia.
Find out more about Ami at her website, connect with her on Facebook, follow her on Twitter, and see what she's pinning on Pinterest.
Ami's Tour Stops
Tuesday, July 2nd: Life in the Thumb
Wednesday, July 3rd: BoundByWords
Saturday, July 6th: Doing Dewey
Tuesday, July 9th: Becca's Byline
Wednesday, July 10th: No More Grumpy Bookseller
Thursday, July 11th: Kritters Ramblings
Monday, July 15th: A Reader of Fictions
Tuesday, July 16th: BookNAround
Wednesday, July 17th: Melissa Firman
Thursday, July 18th: West Metro Mommy
Monday, July 22nd: Peppermint PhD
Thursday, July 25th: From L.A. to LA
Friday, July 26th: The 3 R's: Reading, 'Riting, and Randomness