About The Geneva Option
• Paperback: 368 pages
• Publisher: Harper Paperbacks; Original edition (May 28, 2013)
Yael Azoulay does the United Nations' dirty work by cutting deals that most of us never hear about. Equally at home in the caves of Afghanistan, the slums of Gaza, or corporate boardrooms all across the world, Yael believes the ends justify the means…until she's pushed way beyond her breaking point.
When Yael is assigned to eastern Congo to negotiate with Jean-Pierre Hakizimani, a Hutu warlord wanted for genocide, she offers him a generous plea bargain. Thanks to Congo's abundance of a valuable mineral used in computer and cell phone production, her number one priority is maintaining regional stability. But when she discovers that Hakizimani is linked to the death of the person she loved the most—and that the UN is prepared to sanction mass murder—Yael soon realizes that salvation means not just saving others' lives but confronting her own inner demons.
Spanning New York City, Africa, and Switzerland, The Geneva Option is the first in a series of gripping conspiracy thrillers, a tour de force of international espionage and intrigue.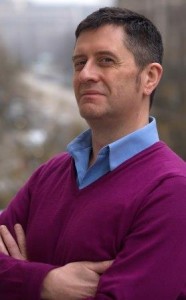 About Adam LeBor
Adam LeBor lives in Budapest and writes for the Economist, New York Times, Times (London), Monocle, and numerous other publications. He is the author of a number of nonfiction books, including the groundbreaking investigative work Hitler's Secret Bankers (short-listed for the Orwell Prize), which revealed the extent of Swiss complicity with the Third Reich; City of Oranges (short-listed for the Jewish Quarterly Prize); and Complicity with Evil.
Find out more about Adam at his website, connect with him on Facebook, and follow him on Twitter.
Adam's Tour Stops
Tuesday, May 28th: Man of La Book
Wednesday, May 29th: Jen's Book Thoughts
Thursday, May 30th: Lavish Bookshelf
Monday, June 3rd: Confessions of an Avid Reader
Tuesday, June 4th: Beastmomma
Wednesday, June 5th: Mystery Playground
Thursday, June 6th: Short and Sweet Reviews
Wednesday, June 12th: Ace and Hoser Blook
Monday, June 17th: No More Grumpy Bookseller
Sunday, June 23rd: 50 Books Project