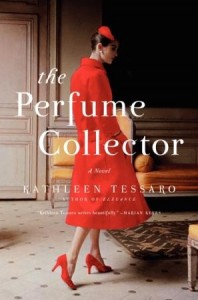 About The Perfume Collector
• Hardcover: 464 pages
• Publisher: Harper (May 14, 2013)
An inheritance from a mysterious stranger . . .
An abandoned perfume shop on the Left Bank of Paris . . .
And three exquisite perfumes that hold a memory . . . and a secret
London, 1955: Grace Monroe is a fortunate young woman. Despite her sheltered upbringing in Oxford, her recent marriage has thrust her into the heart of London's most refined and ambitious social circles. However, playing the role of the sophisticated socialite her husband would like her to be doesn't come easily to her—and perhaps never will.
Then one evening a letter arrives from France that will change everything. Grace has received an inheritance. There's only one problem: she has never heard of her benefactor, the mysterious Eva d'Orsey.
So begins a journey that takes Grace to Paris in search of Eva. There, in a long-abandoned perfume shop on the Left Bank, she discovers the seductive world of perfumers and their muses, and a surprising, complex love story. Told by invoking the three distinctive perfumes she inspired, Eva d'Orsey's story weaves through the decades, from 1920s New York to Monte Carlo, Paris, and London.
But these three perfumes hold secrets. And as Eva's past and Grace's future intersect, Grace realizes she must choose between the life she thinks she should live and the person she is truly meant to be.
Illuminating the lives and challenging times of two fascinating women, The Perfume Collector weaves a haunting, imaginative, and beautifully written tale filled with passion and possibility, heartbreak and hope.
About Kathleen Tessaro
Kathleen Tessaro is the author of Elegance, Innocence, The Flirt, and The Debutante. She lives in Pittsburgh, Pennsylvania, with her husband and son.
Find out more about Kathleen at her website and connect with her on Facebook.
Kathleen's Tour Stops
Tuesday, May 14th: No More Grumpy Bookseller
Wednesday, May 15th: BookNAround
Thursday, May 16th: Books in the Burbs
Monday, May 20th: Reading Reality
Wednesday, May 22nd: A Chick Who Reads
Thursday, May 23rd: Literally Jen
Friday, May 24th: Broken Teepee
Saturday, May 25th: Doing Dewey
Monday, May 27th: Let Them Read Books
Tuesday, May 28th: A Bookish Way of Life
Thursday, May 30th: Tiffany's Bookshelf
Monday, June 3rd: Must Read Faster
Wednesday, June 5th: Dreaming in Books
Monday, June 10th: Amused By Books
Tuesday, June 11th: As I turn the pages
Thursday, June 13th: guiltless reading