Doctor Who 50th Anniversary Collection on tour this spring!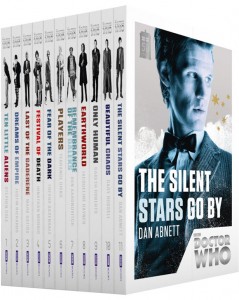 To celebrate the 50th anniversary of Doctor Who this year, BBC Books will be reissuing eleven classic Doctor Who novels – one for each Doctor – from across their fiction range. Repackaged with new introductions, bold new covers, and 50th anniversary branding, they are not only a collectable set for fans, but a brilliant introduction to the depth and range of the Doctor Who list. All eleven novels will be published as paperbacks in April 2013 (US $12.99/CAN $15.99)
A First Doctor adventure, featuring the Doctor as played by William Hartnell and his companions Ben and Polly.
Deep in the heart of a hollowed-out moon the First Doctor finds a chilling secret: ten alien corpses, frozen in time at the moment of their death. They are the empire's most wanted terrorists, and their discovery could end a war devastating the galaxy. But is the same force that killed them still lurking in the dark? And what are its plans for the people of Earth?
Stephen Cole liked books, and so went to the  University of East Anglia to read more of them. Later on he started  writing them too, with more TV and film tie-ins than he cares to admit to  along the way. He has been the voice of a Dalek and an editor of fiction and non-fiction  book titles for various publishers, including the Doctor Who novels The Feast of the Drowned and The Art of Destruction. He lives in Haddenham.
A Second Doctor adventure, featuring the Doctor as played by Patrick Troughton and his companions Jamie and Victoria.
On a barren asteroid, the once-mighty Haddron Empire is on the brink of collapse, torn apart by civil war. The one man who might have saved it languishes in prison, his enemies planning his death and his friends plotting his escape.The Second Doctor arrives as the last act of this deadly drama is being played out – and with both terrifying killers and cunning traitors to defeat, the future hangs in the balance.
Justin Richards is creative consultant for the BBC's Doctor Who  books, and has written several himself. He writes for stage, screen and audio and is the author of a series of novels for children. He lives in Warwick.
A Third Doctor adventure, featuring the Doctor as played by Jon Pertwee and his companion Jo.
The aerodrome in Culverton has new owners, and they promise an era of prosperity for the idyllic village. But former Spitfire pilot Alex Whistler is suspicious – when black-shirted troops appear on the streets, he contacts his old friend Brigadier Lethbridge-Stewart at UNIT. The Third Doctor is sent to investigate – and soon uncovers a sinister plot to colonise the Earth. The Gaderene are on their way…
Mark Gatiss is one of The League of Gentlemen from the award-winning television show, and the author of the novels The Vesuvius  Club and The Devil in Amber.  He has also written acclaimed  radio and television scripts, including episodes of Doctor Who. He co-created and writes for the hit TV series Sherlock with Doctor Who show-runner Steven Moffat. Mark lives in London.
A Fourth Doctor adventure, featuring the Doctor as played by Tom Baker and his companions Romana and K-9.
The Beautiful Death is the ultimate theme-park ride: a sightseeing tour of the afterlife. But something has gone wrong, and when the Fourth Doctor arrives in the aftermath of the disaster, he is congratulated for saving the population from destruction – something he hasn't actually done yet. He has no choice but to travel back in time and discover how he became a hero. And then he finds out. He did it by sacrificing his life.
Jonathan Morris is the writer of the official Doctor Who Magazine comic strip, has written a number of Doctor Who novels for BBC Books, and numerous audio adventures for Big Finish  Productions and BBC Radio 7. He has also written for the TV sketch shows  Dead Ringers and Swinging. Jonathan lives in London.
A Fifth Doctor adventure, featuring the Fifth Doctor as played by Peter Davison and his companions Tegan and Nyssa.
On a moon of the ruined planet Akoshemon, an age-old terror is about to be reborn. Something that remembers the spiral of war, pestilence and deprivation – and rejoices in it. The Fifth Doctor joins a team of archaeologists searching for evidence of the planet's infamous past, and uncovers more than just ancient history. Forced to confront his own worst fears, even the Doctor will be pushed to breaking point – and beyond.
Trevor Baxendale was born in Liverpool in 1966. He has been contributing to a variety of Doctor Who fiction ranges for both BBC Books and Big Finish Productions for over ten years. Trevor is a regular contributor to Immediate Media's hugely popular Doctor Who Adventures, scripting the further exploits of the Doctor in comic strip form. His Torchwood novel, Something in the Water, was a national bestseller.
Players
 by Terrance Dicks
A Sixth Doctor adventure, featuring the Doctor as played by Colin Baker and his companion Peri.
Arriving on the sun-baked veldt in the middle of the Boer War, the Sixth Doctor is soon involved in the adventures of struggling politician and war correspondent Winston Churchill. Of course, he knows Churchill is destined for great things, but unseen forces seem to be interfering with Winston's historic career… The Doctor suspects the hidden hand of the Players, mysterious beings who regard human history as little more than a game. With time running out, can the Doctor find the right moves to defeat them?
Terrance Dicks worked on scripts for The Avengers as well as other series before becoming Assistant and later full Script Editor of Doctor Who from 1968. Dicks worked on the entirety of the Jon Pertwee Third Doctor era of the programme, and then turned to writing for the show, scripting Tom Baker's first story as the Fourth Doctor. Terrance has written many original Doctor Who novels for BBC Books. He lives in London.
A Seventh Doctor adventure, featuring the Doctor as played by Sylvester McCoy and his companion Ace.
With unfinished business to attend to, the Seventh Doctor returns to where it all began: Coal Hill School in London in 1963. Last time he was here, the Doctor left something behind – a powerful Time Lord artefact that could unlock the secrets of time travel. Can the Doctor retrieve it before two rival factions of Daleks track it down? And even if he can, how will the Doctor prevent the whole of London becoming a war zone as the Daleks meet in explosive confrontation?
Ben Aaronovitch writes tie-in novels and TV scripts, and wrote the screenplays for the Seventh Doctor episodes Battlefield and Remembrance of the Daleks. He is the author of a series of audio dramas based on TV's Blake's 7, as well as the acclaimed Rivers of London series. He also works as a bookseller.
Earthworld by Jacqueline Rayner
An Eighth Doctor adventure, featuring the Doctor as played by Paul McGann and his companions Fitz and Anji.
Anji has just had the worst week of her life. She should be back at her desk, not travelling through time and space in a police box. The Eighth Doctor is supposed to be taking her home, so why are there dinosaurs outside? The Doctor doesn't seem to know either, or else he surely would have mentioned the homicidal princesses, teen terrorists and mad robots? One thing is certain: Anji is never going to complain about Monday mornings in the office again.
Jacqueline Rayner has written six Doctor Who novels, as well as other science-fiction and children's books. A member of Doctor Who Magazine's 'Time Team', she and three friends have been watching all the Doctor Who programmes ever made in order and are recording their reactions. She lives in Essex with her  husband and twin sons.
A Ninth Doctor adventure, featuring the Doctor as played by Christopher Eccleston and his companion Rose.
Reports of a time disturbance lead the Ninth Doctor to modern-day London, where he discovers a Neanderthal Man, twenty-eight thousand years after his race became extinct. A trip back to the dawn of humanity only deepens the mystery: who are these strange humans from the far future now living in the distant past? The Doctor must learn the truth about the Osterberg experiment before history is changed forever.
Gareth Roberts was born in Chesham, Buckinghamshire in 1968.  His scripts for Doctor Who on television include 'The Shakespeare Code' (2007), 'The Unicorn And  The Wasp' (2008), 'The Lodger' (2010) and 'Closing Time' (2011), and he  has also written many scripts for the spin-off series The Sarah Jane Adventures, as well as scripts for programmes as diverse as Emmerdale and Randall & Hopkirk (Deceased).  He has written nine original Doctor Who novels, and lives in West London.
A Tenth Doctor adventure, featuring the Doctor as played by David Tennant and his companion Donna.
Wilfred Mott is very happy: his granddaughter, Donna, is back home, catching up with family and gossiping about her journeys, and he has just discovered a new star and had it named after him. He takes the Tenth Doctor with him to the naming ceremony. But the Doctor soon discovers something else new, and worryingly bright, in the heavens – something that is heading for Earth. It's an ancient force from the Dark Times. And it is very, very angry…
Gary Russell was one of the script editing team for Doctor Who, Torchwood  and The Sarah Jane Adventures, and is the author of many novels and reference books in the Doctor Who range. A former editor of Doctor Who Magazine, he also was the producer of Doctor Who audio dramas for Big Finish Productions for eight years. He lives in Cardiff.
An Eleventh Doctor adventure, featuring the Doctor as played by Matt Smith and his companions Amy and Rory.
The winter festival is approaching for the hardy colony of Morphans, but no one is in the mood to celebrate. They're trying to build a new life on a cold new world, but each year gets harder and harder. It's almost as if some dark force is working against them. Then three mysterious travelers arrive out of the midwinter night, one of them claiming to be a doctor. Are they bringing the gift of salvation or doom? And what else might be lurking out there, about to wake up?
Dan Abnett is a novelist and award-winning comic book writer. He has written over thirty-five novels, including the acclaimed Gaunt's Ghosts series, and the Eisenhorn and Ravenor trilogies. His latest Horus Heresy novel Prospero Burns was a New York Times bestseller, and topped the SF charts in the UK and the US. His combat SF novel Embedded was published in 2011. He lives and works in Maidstone, Kent.
Doctor Who TLC Book Tours TOUR STOPS:
Monday, May 13th  A Bookish Way of Life – Beautiful Chaos, Book 10
Wednesday, May 15th – A Library of My Own – Festival of Death, Book 4
Friday, May 17th– Diary of a Stay at Home Mom – The Silent Stars Go By, Book 11
Monday, May 20th – Tiffany's Bookshelf – Dreams of Empire, Book 2
Monday, May 20th – Black 'n Gold Girl's Book Spot  – Who-ology: Doctor Who: The Official Miscellany
Tuesday, May 21st – No More Grumpy Bookseller – Only Human, Book 9
Wednesday, May 22nd – The Best Books Ever – Earthworld, Book 8
Wednesday, May 22nd – Col Reads – Ten Little Aliens, Book 1
Thursday, May 23rd – Reading Reality – Festival of Death, Book 4
Friday, May 24th –  The Z Axis – Fear of the Dark, Book 5
Friday, May 24th – 2 Kids and Tired – Dreams of Empire, Book 2
Monday, May 27th – More Than Just Magic – Players, Book 6
Tuesday, May 28th – The Best Books Ever – The Silent Stars Go By, Book 11
Wed, May 29th – A Library of My Own – Only Human, Book 9
Thursday, May 30th – Black 'n Gold Girl's Book Spot – Last of the Gaderene, Book 3
Friday, May 31st – Bookish Whimsy – Beautiful Chaos, Book 10
Friday, May 31st – 2 Kids and Tired – Last of the Gaderene, Book 3
Monday, June 3rd – Book Addict Katie – Beautiful Chaos, Book 10
Monday, June 3rd – No More Grumpy Bookseller – The Silent Stars Go By, Book 11
Tuesday, June 4th – Bookfoolery – Ten Little Aliens, Book 1
Tuesday, June 4th – In Bed with Books – Only Human, Book 9
Wednesday, June 5th – Tiffany's Bookshelf – Last of the Gaderene, Book 3
Thursday, June 6th – Booktalk & More – Earthworld, Book 8
Monday, June 10th  – The Z Axis – The Silent Stars Go By, Book 11
Tuesday, June 11th- No More Grumpy Bookseller – Remembrance of the Daleks, Book 7
Wednesday, June 12th – A Bookish Way of Life – Last of the Gaderene, Book 3
Friday, June 14th – Bookish Whimsy – Festival of Death, Book 4
Monday, June 17th – 50 Books Project – Beautiful Chaos, Book 10
Monday, June 17th – Black 'n Gold Girl's Book Spot – The Silent Stars Go By, Book 11
Tuesday, June 18th – Bookfoolery – Festival of Death, Book 4
Wednesday, June 19th – Tiffany's Bookshelf – Fear of the Dark, Book 5
Thursday, June 20th – In Bed With Books – Remembrance of the Daleks, Book 7
Monday, June 24th – Bookish Whimsy – Players, Book 6
Tuesday, June 25th – Book Addict Katie – Festival of Death, Book 4
Wednesday, June 26th – No More Grumpy Bookseller – Earthworld, Book 8
Thursday, June 27th – Reading Reality – Ten Little Aliens, Book 1
Friday, June 28th – Guiltless Reading – Beautiful Chaos, Book 10
Monday, July 15 – 50 Books Project – Dreams of Empire, Book 2