Paperback: 288 pages
Publisher: Ballantine Books (March 26, 2013)
A riveting and poignant novel of one woman's journey to Bali in search of love, renewal, and a place to call home—perfect for readers of Elizabeth Gilbert's Eat, Pray, Love and Alex Garland's The Beach.
It starts as a trip to paradise. Sent on assignment to Bali, Jamie, an American adventure guide, imagines spending weeks exploring the island's lush jungles and pristine white sand beaches. Yet three days after her arrival, she is caught in Bali's infamous nightclub bombings, which irreparably change her life and leave her with many unanswered questions.
One year later, haunted by memories, Jamie returns to Bali seeking a sense of closure. Most of all, she hopes to find Gabe, the man who saved her from the attacks. She hasn't been able to forget his kindness—or the spark between them as he helped her heal. Checking into a cozy guest house for her stay, Jamie meets the kindly owner, who is coping with a painful past of his own, and a young boy who improbably becomes crucial to her search. Jamie has never shied away from a challenge, but a second chance with Gabe presents her with the biggest dilemma of all: whether she's ready to open her heart.
Look for additional material at the end of the book, and join Random House Reader's Circle for author chats and more.
"Echoing Bali's difficult recovery from [the 2002 terrorist bombing], the characters tread the difficult terrain of post-traumatic attachment… A respectful and earnest…treatment of devastation's aftermath."—Kirkus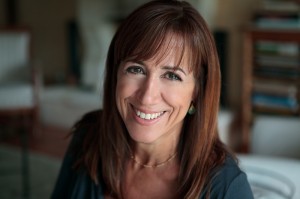 About Ellen Sussman
Ellen Sussman is the author of the novels French Lessons and On a Night Like This, both national bestsellers. She has two daughters and lives with her husband in Northern California.
Connect with Ellen on Twitter and Facebook.
.
.
Ellen Sussman's TLC Book Tours TOUR STOPS:
Tuesday, March 26th:  Unabridged Chick
Wednesday, March 27th:  A Bookish Affair
Thursday, March 28th:  BookNAround
Monday, April 1st:  A Chick Who Reads
Thursday, April 4th:  Linus's Blanket – author Q&A
Monday, April 8th:  Suko's Notebook
Friday, April 12th:  A Novel Review
Monday, April 15th:  Amused by Books
Tuesday, April 16th:  Caribousmom
Wednesday, May 22nd:  Books in the City