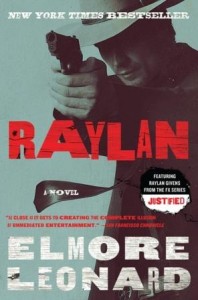 About Raylan
• Paperback: 288 pages
• Publisher: William Morrow Paperbacks (December 26, 2012)
When Dickie and Coover Crowe, dope-dealing brothers known for sampling their own supply, decide to branch out into the body business, it's up to U.S. Marshal Raylan Givens to stop them. But Raylan isn't your average marshal; he's the laconic, Stetson-wearing, fast-drawing lawman who juggles dozens of cases at a time and always shoots to kill. But by the time Raylan finds out who's making the cuts, he's lying naked in a bathtub, with Layla, the cool transplant nurse, about to go for his kidneys.
About Elmore Leonard
Elmore Leonard has written more than forty books during his highly successful writing career, including the bestsellers Road Dogs, Up in Honey's Room, The Hot Kid, Mr. Paradise,Tishomingo Blues, and the critically acclaimed collection of short stories When the Women Come Out to Dance. Many of his books have been made into movies, including Get Shorty, Out of Sight, and Be Cool. Justified, the hit series from FX, is based on Leonard's character Raylan Givens, who appears in Riding the Rap, Pronto, the short story "Fire in the Hole," and Raylan. Leonard is the recipient of the National Book Foundation's Medal for Distinguished Contribution to American Letters, the Lifetime Achievement Award from PEN USA, and the Grand Master Award of the Mystery Writers of America. He lives in Bloomfield Village, Michigan.
The fourth season of FX's hit original series, Justified, is set to premier on January 8, 2013.
Visit Elmore at his website, find him on Facebook, and follow him on Twitter.
Elmore's Tour Stops
Wednesday, December 26th: No More Grumpy Bookseller
Friday, December 28th: Book Addict Katie
Sunday, December 30: EmSun
Wednesday, January 2nd: Ted Lehmann's Bluegrass, Books, and Brainstorms
Thursday, January 3rd: Helen's Book Blog
Monday, January 7th: My Life in Not So Many Words
Tuesday, January 8th: Chaotic Compendiums
Thursday, January 10th: Jenny Loves to Read
Wednesday, January 16th: Jenn's Bookshelves
Sunday, January 27th: Luxury Reading