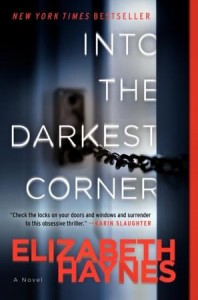 About Into the Darkest Corner
• Paperback: 432 pages
• Publisher: Harper Paperbacks (January 2, 2013)
When young, pretty Catherine Bailey meets Lee Brightman, she can't believe her luck. Gorgeous, charismatic, and a bit mysterious, Lee seems almost too perfect to be true.
But what begins as flattering attention and spontaneous, passionate sex transforms into raging jealousy, and Catherine soon discovers that Lee's dazzling blue eyes and blond good looks hide a dark, violent nature. Disturbed by his increasingly erratic, controlling behavior, she tries to break it off; turning to her friends for support, she's stunned to find they don't believe her. Increasingly isolated and driven into the darkest corner of her world, a desperate Catherine plans a meticulous escape.
Four years later, Lee is behind bars and Catherine—now Cathy—is trying to build a new life in a new city. Though her body has healed, the trauma of the past still haunts her. Then Stuart Richardson, her attractive new neighbor, moves in. Encouraging her to confront her fears, he sparks unexpected hope and the possibility of love and a normal life.
Until the day the phone rings . . .
About Elizabeth Haynes
ELIZABETH HAYNES is a police intelligence analyst. She started writing fiction in 2006 with the annual challenge of National Novel Writing Month (NaNoWriMo) and the encouragement of the creative writing courses at West Dean College. She lives in a village near Maidstone, Kent, with her husband and son.
Visit her at elizabeth-haynes.com, connect with her on Facebook, and follow her on Twitter.
Elizabeth's Tour Stops
Wednesday, January 2nd: Mockingbird Hill Cottage
Thursday, January 3rd: Booked on a Feeling
Monday, January 7th: Peppermint PhD
Tuesday, January 8th: Drey's Library
Thursday, January 10th: The Blog of Lit Wits
Thursday, January 17th: Sara's Organized Chaos
Monday, January 21st: All Grown Up?
Tuesday, January 22nd: Kristina's Favorites
Thursday, January 24th: Bookworm Meets Bookworm
Monday, January 28th: Kelly's [Former] France Blog
Tuesday, January 29th: Proud Book Nerd
Wednesday, January 30th: Literary Feline
Thursday, January 31st: It's a Crazy, Beautiful Life
Monday, February 4th: Books in the Burbs
Wednesday, February 6th: Tina's Book Reviews
Saturday, February 22nd: Book Journey