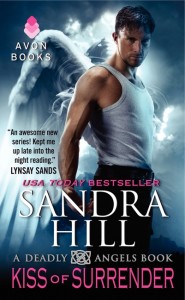 About Kiss of Surrender
• Mass Market Paperback: 384 pages
• Publisher:Avon (November 27, 2012)
It's not easy being a Vampire Angel.
No one knows that better than Trond Sigurdsson. In the centuries since he last went out drinking and wenching with his Viking buds, Trond has been a gladiator, a cowboy, a ditch digger . . . even a sheik. But now he's the baddest of them all: a kick-ass Navy SEAL kicking butts of terrorist immortals with the help of his hotter-than-Hades female partner, police officer-turned-Special Forces operative Nicole Tasso—whom Trond dearly hopes to "partner" with very shortly in a whole different way.
The "cop" part of Nicole tells her there's something bizarre about her gorgeous godlike teammate. But her "all-woman" side can't help wondering how great it would be to have a virile Viking in her bed. Trond has secrets galore, but Nicole feels certain she can dig them out—and really get to the heart of this powerful, unnerving stranger whom she may be risking her soul to love.
About Sandra Hill
Sandra Hill is a graduate of Penn State and worked for more than ten years as a features writer and education editor for publications in New Jersey and Pennsylvania. Writing about serious issues taught her the merits of seeking the lighter side of even the darkest stories. She is the wife of a stockbroker and the mother of four sons.
Find out more about Sandra at her website, follow her on Twitter, and connect with her on Facebook.
Sandra's Tour Stops
Tuesday, November 27th: From the TBR Pile
Tuesday, November 27th: Literary Feline
Wednesday, November 28th: Cheryl's Book Nook
Monday, December 3rd: Mom in Love With Fiction
Tuesday, December 4th: Book Spark
Wednesday, December 5th: Romancing the Book
Thursday, December 6th: Book Sniffers Anonymous
Monday, December 10th: Hopelessly Devoted Bibliophile
Thursday, December 13th: Michelle's & Leslie's Book Picks
Monday, December 17th: Sara's Organized Chaos
Friday, December 21st: For the Love of Film and Novels
Sunday, December 23rd: Book Reviews by Molly
Friday, December 28th: Darlene's Book Nook