We have SEVEN fantastic books in our
September Book Club of the Month Contest!
———————————————————————————————
Book Clubs will lose sleep over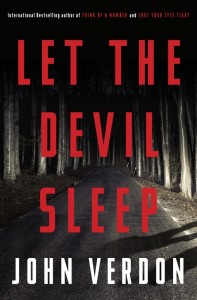 Let the Devil Sleep by John Verdon
From the internationally bestselling author of Think of a Number and Shut Your Eyes Tight, this latest puzzle masterpiece from John Verdon pits superstar detective Dave Gurney against the nation's law enforcement experts as he offers an alternative explanation for why a once dormant serial killer–enshrined in the textbooks–appears to be reanimated and out for blood..
Dave Gurney, the most decorated homicide detective in the history of the NYPD, is still trying to adjust to life in upstate New York when a young woman who is producing a documentary on serial killers asks for his input.  Soon after this conversation, odd events begin occurring in Dave's life: There is a strange problem with his tractor, a razor-sharp hunting arrow lands in his yard, and he narrowly escapes serious injury in a booby-trapped basement.  As things grow more bizarre, Dave finds himself reexamining the case of "The Good Shepherd"–which, 10 years before, involved a series of roadway shootings and a "Unabomber-like" manifesto expressing rage at society.  The killings ceased, and a cult of analysis grew up around the case with a consensus opinion that no one would dream of challenging–no one, that is, except Dave Gurney.  Mocked even by some who'd  been his allies in previous investigative outings, Dave is only heeded when the reawakened Good Shepherd proves by his actions that his agenda is more complex than previously thought.
———————————————————————————————
Book Clubs will discuss the unexpected ways in which life can change in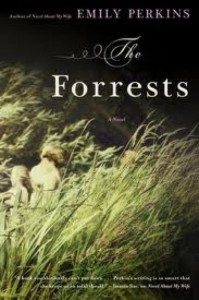 The Forrests by Emily Perkins
For fans of Zoë Heller and Zadie Smith, a vibrant and vital novel about the way family—with its dysfunctional bonds, sibling love, and rivalry—enduringly defines us.
Dorothy Forrest is immersed in the sensory world around her; she lives in the flickering moment. From the age of seven, when her odd, disenfranchised family moves from New York to the wide skies of New Zealand, to the very end of her life, this is her great gift and possible misfortune.
From the wilderness of a commune to falling in love to early marriage and motherhood, from the glorious anguish of parenting to the loss of everything worked for and the unexpected return oflove, Dorothy is swept along by time. Her family looms and recedes, revelations come to light, death changes everything, but somehow life remains as potent as it ever was, and the joy in just being won't let her go.
In a narrative that shifts and moves, singing with color and memory, growing as wild as its characters, The Forrests speaks to the unexpected ways in which life can change—"if you're lucky enough to be around for it."
Praise for Emily Perkins:
"A writer very much in command not only of her language but of the unique and surprising variations she brings to the form." —T. C. Boyle, author of When The Killing's Done
"Brimming with talent." —Esther Freud, author of Hideous Kinky and Lucky Break
"An expansive and ambitious novel, beautifully written, and covering great swathes of emotional territory."
—Lawrence Norfolk, author of Lempriere's Dictionary
—————————————————————————————
Book Clubs will ponder what it means to be truly healed in
The Healer of Fox Hollow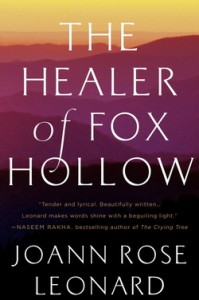 The Healer of Fox Hollow by Joann Rose Leonard
According to folklore in the Smoky Mountains, "When you enter the world with your feet pawing the air before your eyes can see where to put them, it's a strong sign you'll lose your way from time to time."
Right from the start, Layla Tompkin's way forward is full of detours after her mother dies in breech birth, leaving only her and her devoted, sorrowful father, Ed. Then, at the age of five, Layla is rendered mute after a devastating injury.
"God is leading Layla to speak in new tongues," proclaims Pastor Simpson at the local serpent handling church. Soon after, Layla is found to possess the gift of healing others and her reputation spreads. Even Doc Fredericks, the area's skeptical physician, is forced to re-examine scientific tenets when Layla's healing touch is the only treatment that brings relief to his son Brian, whose legs were blown off by a landmine in Vietnam.
Doubt and the miraculous, loss and survival, hurt and forgiveness collide when a secret challenges what everyone holds true, leaving Layla, her family and the community profoundly changed in a story about what it means to be truly healed.
"…tough, tender, and terrifyingly beautiful. It touches spirituality in ways that will please the Believer and the Doubter alike and for all its simplicity delves into the deep mysteries of life with complexity and nuance. It is a wonderful book." — John Pielmeier, award-winning screenwriter of Agnes of God, Choices of the Heart, Sins of the Father, The Pillars of the Earth 
"Tender and lyrical, The Healer of Fox Hollow is the story of how a young girl, stripped of her ability to speak, finds beauty and wholeness amidst the brutality hidden in a hollow in the Smoky Mountains. Beautifully written… Leonard makes words shine…" – Naseem Rakha, International bestselling author of The Crying Tree
A Note from the author:
The Healer of Fox Hollow began as a personal exploration. To better understand what unifies us as well as what separates us, I imagined myself with radically different mindsets from my own. Guided by the all-too-real, this story pushed me to places where ordinary language fails. Places of darkness and the horrific. Places of doubt where we stand naked in our fear, loneliness, suffering. Places of healing and light where we experience heartbreaking human kindness, forgiveness, grace, love, and ultimate mystery.
———————————————————————————
Book club readers will laugh and cry through this story of two emotionally damaged people who find love and hope in an English garden.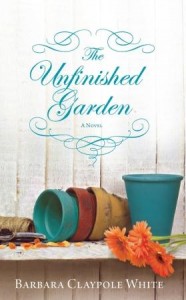 The Unfinished Garden by Barbara Claypole White
The Unfinished Garden is a love story about grief, OCD, and dirt, set in the forests of North Carolina and the woodland gardens of Southern England.
James Nealy is haunted by irrational fears, inescapable compulsions. A successful software developer, he's thrown himself into a new goal—to finally conquer the noise in his mind. And he has a plan. He'll confront his darkest fears and build something beautiful: a garden. When he meets Tilly Silverberg, he knows she holds the key…even if she doesn't think so.
After her husband's death, gardening became Tilly's livelihood and her salvation. Her thriving North Carolina business and her young son, Isaac, are the excuses she needs to hide from the world. So when oddly attractive, incredibly tenacious James speeds into her life, demanding she take him on as a client, her answer is a flat no.
When a family emergency lures Tilly back to England, she's secretly glad. With Isaac in tow, she retreats to her childhood village, which has always stayed obligingly the same. Until now. Her best friend is keeping secrets; her mother is plotting; her first love is unexpectedly, temptingly available. And then James appears on her doorstep.
Away from home, James and Tilly forge an unlikely bond, tenuous at first but taking root with every day. And as they work to build a garden together, something begins to blossom between them—despite all the reasons against it.
—————————————————————————————
 Book clubs will love discussing how far a parent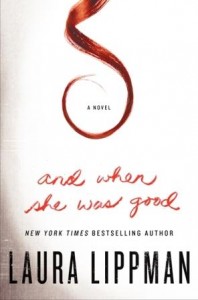 And When She Was Good by Laura Lippman
Perennial New York Times and nationally bestselling author and acclaimed multiple–prize winner Laura Lippman delivers a brilliant novel about a woman with a secret life who is forced to make desperate choices to save her son and herself.
When Hector Lewis told his daughter that she had a nothing face, it was just another bit of tossed-off cruelty from a man who specialized in harsh words and harsher deeds. But twenty years later, Heloise considers it a blessing to be a person who knows how to avoid attention. In the comfortable suburb where she lives, she's just a mom, the youngish widow with a forgettable job who somehow never misses a soccer game or a school play. In the state capitol, she's the redheaded lobbyist with a good cause and a mediocre track record.
But in discreet hotel rooms throughout the area, she's the woman of your dreams—if you can afford her hourly fee.
For more than a decade, Heloise has believed she is safe. She has created a rigidly compartmentalized life, maintaining no real friendships, trusting few confidantes. Only now her secret life, a life she was forced to build after the legitimate world turned its back on her, is under siege. Her once oblivious accountant is asking loaded questions. Her longtime protector is hinting at new, mysterious dangers. Her employees can't be trusted. One county over, another so-called suburban madam has been found dead in her car, a suicide. Or is it?
Nothing is as it seems as Heloise faces a midlife crisis with much higher stakes than most will ever know.
And then she learns that her son's father might be released from prison, which is problematic because he doesn't know he has a son. The killer and former pimp also doesn't realize that he's serving a life sentence because Heloise betrayed him. But he's clearly beginning to suspect that Heloise has been holding something back all these years.
With no formal education, no real family, and no friends, Heloise has to remake her life—again. Disappearing will be the easy part. She's done it before and she can do it again. A new name and a new place aren't hard to come by if you know the right people. The trick will be living long enough to start a new life.
—————————————————————————————
Epic love, the immigrant experience, and family are themes book clubs will enjoy from The Shoemaker's Wife  by Adriana Trigiani.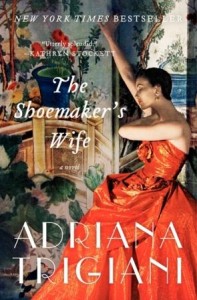 The Shoemaker's Wife by Adriana Trigiani
The fateful first meeting of Enza and Ciro takes place amid the haunting majesty of the Italian Alps at the turn of the last century. Still teenagers, they are separated when Ciro is banished from his village and sent to hide in New York's Little Italy, apprenticed to a shoemaker, leaving a bereft Enza behind. But when her own family faces disaster, she, too, is forced to emigrate to America. Though destiny will reunite the star-crossed lovers, it will, just as abruptly, separate them once again—sending Ciro off to serve in World War I, while Enza is drawn into the glamorous world of the opera . . . and into the life of the international singing sensation Enrico Caruso. Still, Enza and Ciro have been touched by fate—and, ultimately, the power of their love will change their lives forever.
A riveting historical epic of love and family, war and loss, risk and destiny, inspired by the author's own family history, The Shoemaker's Wife is the novel Adriana Trigiani was born to write.
Check out the discussion questions for The Shoemaker's Wife.
—————————————————————————————
Book clubs will love the universal themes of community, love, friendship, and loyalty in Telegraph Avenue by Michael Chabon.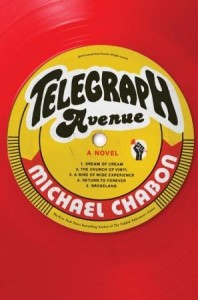 Telegraph Avenue by Michael Chabon
As the summer of 2004 draws to a close, Archy Stallings and Nat Jaffe are still hanging in there—longtime friends, bandmates, and co-regents of Brokeland Records, a kingdom of used vinyl located in the borderlands of Berkeley and Oakland. Their wives, Gwen Shanks and Aviva Roth-Jaffe, are the Berkeley Birth Partners, two semi-legendary midwives who have welcomed more than a thousand newly minted citizens into the dented utopia at whose heart—half tavern, half temple—stands Brokeland.
When ex–NFL quarterback Gibson Goode, the fifth-richest black man in America, announces plans to build his latest Dogpile megastore on a nearby stretch of Telegraph Avenue, Nat and Archy fear it means certain doom for their vulnerable little enterprise. Meanwhile, Aviva and Gwen also find themselves caught up in a battle for their professional existence, one that tests the limits of their friendship. Adding another layer of complication to the couples' already tangled lives is the surprise appearance of Titus Joyner, the teenage son Archy has never acknowledged and the love of fifteen-year-old Julius Jaffe's life.
An intimate epic, a NorCal Middlemarch set to the funky beat of classic vinyl soul-jazz and pulsing with a virtuosic, pyrotechnical style all its own, Telegraph Avenue is the great American novel we've been waiting for. Generous, imaginative, funny, moving, thrilling, humane, triumphant, it is Michael Chabon's most dazzling book yet.
———————————————————————————
Please fill out our super short registration form (<—click here) by September 30th for a chance to win a set of up to ten copies of Let the Devil Sleep, up to ten copies of The Forrests, up to ten copies of The Healer of Fox Hollow, up to ten copies of The Unfinished Garden, up to ten copies of And When She Was Good, up to ten copies of The Shoemaker's Wife by Adriana Trigiani, or up to ten copies of Telegraph Avenue by Michael Chabon for your book club! We will randomly choose a winner at the end of the month. This contest is open to clubs in the US and Canada only (our apologies to friends in other countries).
Best of luck!
We 
LOVE

 Book Clubs!