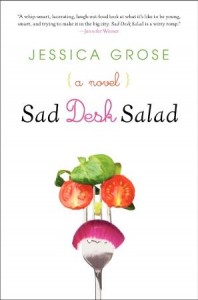 About Sad Desk Salad
• Paperback: 304 pages
• Publisher: William Morrow Paperbacks (October 2, 2012)
As a writer for Chick Habit, an increasingly popular women's website, Alex Lyons gets paid to be a bitch. She's churning out several posts a day, and she saves her juiciest ones for blog prime time, when working women eat their sad desk salads in their offices. Alex tells herself she's fulfilling her dream of being a professional writer; so what if it means being glued to her couch and her laptop from six a.m. to six p.m., scouring the web in search of the next big celebrity scandal? Since Chick Habit's parent company keeps close tabs on page views, Alex knows her job is always at risk.
So when an anonymous tipster sends her the year's most salacious story—a politico's squeaky-clean Ivy League daughter caught in a very R-rated activity—it's a no-brainer. But is Alex really willing to ruin the girl's life by igniting the next Internet feeding frenzy? And what she doesn't yet realize is how this big scoop is about to send her own life spiraling out of control.
"A whip-smart, lacerating, laugh-out-loud look at what it's like to be young, smart and trying to make it in the big city. Sad Desk Saladis a witty romp, a vivid snapshot of friendship and ambition, and a searing indictment of what women do to themselves — and each other — in their quest to get ahead."
— Jennifer Weiner
"Sad Desk Salad by Jessica Grose is The Devil Wears Prada for the blogger age. A laser focused snapshot of our time, the novel gives readers an insider's perspective on the 24/7 grindhouse of celebrity-obsessed new media. Funny and heartfelt, a must-read."
— Valerie Frankel, author of Four of a Kind
About Jessica Grose
Jessica Grose is a writer and editor. She was previously a senior editor at Slate and an editor at Jezebel. Her work has appeared in the New York Times, Glamour, Marie Claire, Spin, and several other publications, and on Salon.com. She lives in Brooklyn with her husband.
Jessica's Tour Stops
Tuesday, October 2nd: A Bookworm's World
Wednesday, October 3rd: No More Grumpy Bookseller
Thursday, October 4th: Book Journey
Tuesday, October 9th: My, My Book and the Couch
Wednesday, October 10th: It's a Crazy, Beautiful Life
Thursday, October 11th: Seaside Book Nook
Friday, October 12th: Peppermint PhD
Monday, October 15th: Stephany Writes
Tuesday, October 16th: Chaos is a Friend of Mine
Wednesday, October 17th: Kahakai Kitchen
Friday, October 19th: StephTheBookworm
Wednesday, October 24th: Sweet Southern Home