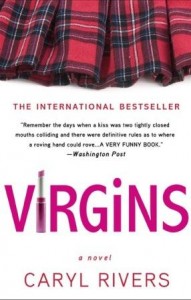 About Virgins
• File Size: 638 KB
• Print Length: 256 pages
• Publisher: Diversion Books (June 3, 2012)
For the seniors at Immaculate Heart High, hormones jousted with the quest for the State of Grace, and the hormones usually won.  The Map of Forbidden Sexual Delights extended its boundaries nightly in the back seats of tail-finned cars. But the girls of Virgins also wanted more. Who could they grow up to be in a word where women were supposed to be seen, but not heard?  They were rebels with a cause, before their time.
But growing up anytime is hard—finding, and losing first loves, discovering who you will be as a grownup. It's a universal experience, one that readers of all ages can relate to. As the Atlanta Constitution says, it is "A novel that is fun, funny, bittersweet and always touching… because Rivers writes with such clarity of purpose and spontaneity, anyone at all can enjoy Virgins."
And they can laugh and cry as they read. Critics called it "brilliantly comic" (London Times)  "Riotously funny" (Library Journal) and showing "sharp comic form" (New York Times Book Review) As the Chicago Tribune says, the book "Rings with authenticity—and also from a great store of wit and wisdom. Few other writers are as funny as she, and none funnier. Yet she is capable of wrenching your heart and soul."
The kids of Virgins—Peg, Sean, Con, Davy—will stay with you long after you close the book on their hijinks and heartbreak. One Amazon reader says "I read this book when I was 17. I'm now 40 and this book still makes me laugh until tears are running down my face.  It's a once in a lifetime read about coming of age that every older teen should read." And another said, "If my life had a bibliography, this book would be on it. I love it. I read it first as a teenager, and revisit it regularly when I need a pick-me-up. It is one of the funniest, most touching, most wonderful books that I have ever discovered."
Virgins is a timeless classic tale of growing up, one that readers can discover and re-discover all over again.
About Caryl Rivers
Caryl Rivers has been called "one of the brightest voices in contemporary fiction." Her novel Virgins was an international critical success, published in the US, UK, Sweden, Germany and Japan. It was on many best seller lists and in paperback (Pocket Books) sold more than a million copies. Her novels deal with American women trying to find a foothold in a rapidly changing world. She was included in the book Feminists Who Changed America from the University of Illinois Press.
She is a nationally known author, journalist, media critic and professor of Journalism at Boston University. In 2007 she was awarded the Helen Thomas Lifetime Achievement Award from the Society of Professional Journalists for distinguished journalism. She is the author of four novels and nine works of non-fiction, all critically acclaimed. Her books have been selections of the Book of the Month Club, Literary Guild, Doubleday Book Club and Troll Book club. The Chicago Tribune says of her,  "Few other writers are as funny as she, and none funnier. Yet she is capable of wrenching your heart and soul."  There are film offers in place for the new edition of Virgins.
Her articles have appeared in the New York Times magazine, Daily Beast, Huffington post, Salon, The Nation, Saturday Review, Ms., Mother Jones, Dissent, McCalls, Glamour, Redbook, Rolling Stone, Ladies Home Journal and many others. She writes frequent commentary for the Washington Post, Los Angeles Times, Boston Globe, Chicago Tribune and Womensenews. Of her book Selling Anxiety: How the News Media Scare Women, Gloria Steinem says it "will save the sanity of media watchers enraged or bewildered by the distance between image and reality."
She has co-authored four books with Dr. Rosalind Barnett, senior scientist at the Women's Studies Research Center at Brandeis—the latest (2011) being The Truth About Girls and Boys: Confronting Toxic Stereotypes About Our Children. Articles based on the book won a Casey medal for distinguished journalism about children and families and a special citation from the National Education Writers association.
Caryl's Tour Stops
Thursday, October 4th: Book Hooked Blog
Wednesday, October 10th: Book Reviews by Molly
Thursday, October 11th: Every Free Chance Book Reviews
Sunday, October 14th: Sara's Organized Chaos
Monday, October 15th: booknerd
Monday, October 15th: Tiffany's Bookshelf
Wednesday, October 17th: Books n' Crannies
Thursday, October 18th: What She Read …
Monday, October 22nd: Sweet Southern Home
Tuesday, October 23rd: Speaking of Books
Wednesday, October 24th: Sharon's Garden of Book Reviews
Thursday, October 25th: Life in the Thumb
Wednesday, October 31st: Proud Book Nerd
Monday, November 19th: Never Too Fond of Books