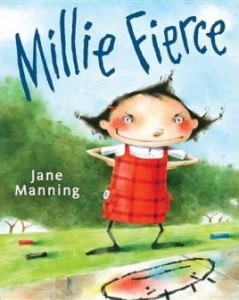 About Millie Fierce
• Publication Date: August 16, 2012
• Age Level: 3 and up
• Grade Level: P and up
• Hardcover: 32 pages
• Publisher: Philomel Books
If Fancy Nancy got angry. Really, really angry.
Millie is quiet. Millie is sweet. Millie is mild. But the kids at school don't listen to her. And she never gets a piece of birthday cake with a flower on it. And some girls from her class walk right on top of her chalk drawing and smudge it. And they don't even say they're sorry!
So that's when Millie decides she wants to be fierce! She frizzes out her hair, sharpens her nails and runs around like a wild thing. But she soon realizes that being fierce isn't the best way to get noticed either, especially when it makes you turn mean. So Millie decides to be nice–but to keep a little of that fierce backbone hidden inside her. In case she ever needs it again.
With bright art and an adorable character, it's easy to empathize with Millie. Because everyone has a bad day, once in a while.
Author's Note:
The story of Millie Fierce must have been rattling around inside me for a long time.
I remember feeling like Millie on many different occasions when I was a kid – like I wasn't being seen, or heard, or considered.
And I didn't like it.  Not one bit.
From the book:
A new feeling rumbled inside her.
Millie stood.
"I'm not a smudge," she said,
so loudly it surprised her.
That's when Millie became fierce.
I didn't exactly follow Millie's course of ferocity.
But I remember sometimes when I really, really wanted to.
"Watch out!  I bite!"
she howled like a mad thing.
The moon noticed.
I guess the trick is – for all of us – to assert ourselves in this world, but still be considerate of others. A balancing act, indeed.
About Jane Manning
Jane Manning is the illustrator of dozens of children's books, including Little Goblins Ten by Pamela Jane, Drip Drop by Sarah Weeks, Cindy Ellen by Susan Lowell, and the New York Times Bestselling The Witch Who Was Afraid of Witches by Alice Low. She wrote and illustrated 2008's Cat Nights (Greenwillow).
Many of Jane's books have appeared in Scholastic Book Clubs and ALA "Pick of the Lists".  She's won several awards for her work, including Parenting Magazine's Reading Magic Award for Drip Drop, and The Western Writers of America Storyteller Award for Cindy Ellen.
Jane lives in Deep River, Connecticut with Tim, Nellie, Crunch and Ziggy. She is usually very well behaved, but every once in a while, Jane turns fierce, just like Millie.
Visit www.milliefierce.com.
Jane's Tour Stops
Thursday, August 16th: Babblin' Brooke
Thursday, August 16th: Delightful Education
Friday, August 17th: My ordinary, every day, happily ever after
Monday, August 20th: Frolic and Farce
Monday, August 20th: There's a Book
Tuesday, August 21st: Little Red Reads
Wednesday, August 22nd: Teach Beside Me
Thursday, August 23rd: 50 Book Project
Monday, August 27th: Geo Librarian
Tuesday, August 28th: Cherry Blossoms
Wednesday, August 29th: Heart Cries
Wednesday, August 29th: Nothing Better Than A Book
Monday, September 3rd: Gingerly Made
Tuesday, September 4th: The Jolly Blogger
Wednesday, September 5th: Maureen's Musings
Thursday, September 6th: Melissa Northway
Thursday, September 6th: Sweet Southern Home
Friday, September 7th: Inspired By Fiction