We have THREE terrific books in our
July Book Club of the Month Contest!
______________________________________________________________________
It only takes 15 Seconds to tear your life apart…
Book clubs will love discussing this electrifying story of an innocent man framed for murder and the obstacles he endures to save the person he loves from the faceless enemy who will stop at nothing to destroy them.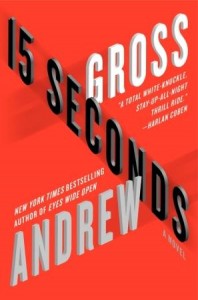 15 Seconds by Andrew Gross
Henry Steadman didn't know what was about to hit him when he pulled up to a red light. A successful Florida plastic surgeon, he is in town to deliver a keynote address at a conference when suddenly his life becomes an unrelenting chase to stay alive.
The situation escalates when he is stopped by the police for a minor traffic violation and pulled from his vehicle, handcuffed and told he is under arrest. Several other police cars arrive and the questioning turns scary, but just as Henry is released and about to move on, a blue sedan pulls up and the officer is suddenly killed. As the car speeds away, there is only one suspect left behind–Henry. In that moment, his idyllic life becomes a free fall into hell as he becomes the target of a police manhunt, as well as being pursued by a cunning, unnamed perpetrator bent on some kind of vengeance.
When Henry turns to a close friend for help, and he, too, ends up dead, Henry realizes he's being elaborately framed. But in a chilling twist, the stakes grow even darker, and he is unable to go to the police to clear his name, without bringing on dire and deadly consequences.
With breakneck pacing and nonstop action, 15 Seconds shows what can happen when even the best life is turned upside down in an instant. It is also the story of an innocent man, framed for murder, who has to save the person he loves the most, all while being drawn closer and closer to an inevitable face-to-face standoff with a man determined to destroy his life.
"A total white knuckle, stay-up-all-night thrill ride. Enjoyed the heck out of it!" — Harlan Coben
Check out the reading group guide for 15 Seconds!
______________________________________________________________________
The title refers to temptation—the temptation of the flesh. So is it an immoral love that borders on madness, or is it an impossible love, if truth be known, when Tài tells Xiaoli who she really is?

Flesh by Khanh Ha
The setting is Tonkin (northern Vietnam) at the turn of the 20th century. A boy, Tai, witnesses the beheading of his father, a notorious bandit, and sets out to recover his head and then to find the man who betrayed his father to the authorities. On this quest, Tai's entire world will shift. Flesh takes the reader into dark and delightful places in the human condition, places where allies are not always your friends, true love hurts, and your worst enemy may bring you the most comfort. In that emotionally harrowing world, Tai must learn to deal with new responsibilities in his life while at the same time acknowledge his bond, and his resemblance, to a man he barely knew—his father. Through this story of revenge is woven another story, one of love, but love purchased with the blood of murders Tai commits. A coming-of-age story, but also a love story, the sensuality of the author's writing style belies the sometimes brutal world he depicts.
"In this dark, violent, and poetic saga, with disjointed cinematic vignettes that make it often read like a screenplay, characters are not who they seem. While this makes for a thrilling finale, what lingers [. . .] is Ha's descriptive prose." —Publishers Weekly
"Readers who enjoy epic sagas set in faraway lands will find absorbing satisfaction here." —Library Journal
"Anyone looking for a gripping adventure story combined with a painless history lesson is going to love this novel." —Joanna Catherine Scott, author of Indochina's Refugees: Oral Histories from Laos, Cambodia and Vietnam and Charlie: a novel of Vietnam.
"Good historical fiction allows a reader to enter another time and place. However, Khanh Ha's Flesh goes further, not only creating a rich portrait of late nineteenth century northern Vietnam, but presenting a hero who is entirely a product of that world, violent and tender. His story is more than a period piece. It is grounded in his own loyalties, his desires, and his slow understanding of the secrets of the human heart." —Simone Zelitch, author of The Confession of Jack Straw, Moses in Sinai, and Louisa
______________________________________________________________________
Book Clubs will devour the political thriller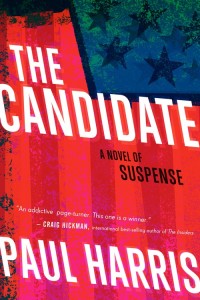 The Candidate by Paul Harris
The novel begins with an assassination attempt. On a freezing winter's night Jack Hodges, a little-known U.S. presidential candidate, speaks at a sparsely-attended town hall meeting in Iowa. It is a few weeks before the Iowa caucus, the first contest in the nomination process to be a candidate for President.
Hodges is a charismatic former general with a dedicated team of believers including campaign staffer Mike Sweeney. But the campaign is a disaster.  Ignored by the media, his candidacy barely registers in polls. Everyone assumes the established frontrunner, Virginia Governor Harriet Stanton, will easily win.
But that single night in Iowa transforms the race. A female assassin waits for Hodges to take the stage. As he speaks a shot rings out. She misses but the incident propels Hodges – who heroically shield his wife from the gunfire- on to the front pages. Yet no one knows the identity of the shooter. Police arrest a mysterious dark-haired woman but she refuses to say a single word. Her name, age, even her nationality, is a mystery.
Finally people pay attention to the Hodges campaign. Guided by his outspoken and outrageous campaign manager, Dee Babineaux, Hodges becomes a passionate, outsider rebel candidate pitted against Stanton, the lifetime career politician. Crowds now flock to his rallies inspired by his powerful message of hope and change.
But as Hodges' campaign climbs in the polls, Babineaux realises it is vital to discover the identity of the mysterious woman who tried to kill him. She gives the task to Mike Sweeney, a true believer in Hodges' cause. He must find out the woman's name and history before anyone from Stanton's campaign or the media does. As Sweeney uncovers more and more information, Hodges' campaign, guided by the ruthless genius of Babineaux, goes from strength to strength. By the time Sweeney finds out the true identity of the would-be assassin, he faces a choice that could effectively determine who could be the next President of America.
---
Please fill out our super short registration form (<—click here) by June 30th for a chance to win a set of up to ten copies of 15 Seconds, up to ten copies of Flesh, or up to ten copies of The Candidate for your book club! We will randomly choose winners at the end of the month. This contest is open to clubs in the US and Canada only (our apologies to friends in other countries)
Best of luck!
We
LOVE

Book Clubs!