We have 2 terrific titles to choose from this month!
______________________________
A strong woman balanced between two diverse cultures
Book clubs will be inspired by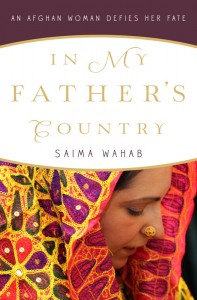 In My Father's Country: An Afghan Woman Defies Her Fate by Saima Wahab
In Afghanistan, there is a Pashtun saying known by every woman and by every girl: "A woman should leave her house only twice in her life: once as a bride to go to her husband's house, and once to the cemetery to be buried."
Born in Kabul, Afghanistan, Saima Wahab seemed destined to lead the life of any Pashtun female—a life of dependence, without education, a probable child bride—but today, more than three decades later, it is clear that this now American-Pashtun, "Human Terrain" specialist was destined for far greater things. In her new book, In My Father's Country, Saima shares her remarkable journey: At age three, she watched while her father was arrested and taken from their home by the KGB.  She would never see him again. When she was fifteen an uncle who lived in Portland, Oregon brought her to America.  Having to learn an entire new language, she nonetheless graduated from high school in three years and went on to earn a bachelor's degree.  In 2004, she signed on with a defense contractor to work as an interpreter in Afghanistan, never realizing that she would blaze the trail for a new kind of diplomacy, earning the trust of both high-ranking U.S. army officials and Afghan warlords alike.
When she arrived in Afghanistan in the winter of 2004, Saima was the only college-educated female Pashto speaker in the entire country. As a Pashtun-born American citizen, Saima found herself in an extraordinary position—to be able to explain the people of her native land to those of her adopted one, and vice versa, in a quest to forge new and lasting bonds between two misunderstood cultures.
In My Father's Country follows Saima from child refugee to nervous Pashto interpreter to intrepid "Human Terrain" specialist, venturing with her 25-man security detail into isolated Pashtun villages to engage hostile village elders in the first dialogue they've ever had with an American. It is also an examination of her life as an American-Pashtun woman; a woman working to create a balance between the two conflicting cultures that comprise her past and shape her future.
________________________________________________________________________________
Book clubs will love discussing this vibrant, haunting
story of impossible love and how the lines blur
between sanity and madness in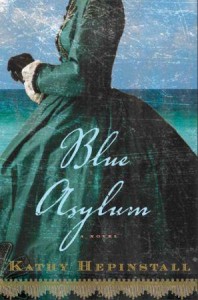 Blue Asylum by Kathy Hepinstall
Amid the mayhem of the Civil War, Virginia plantation wife Iris Dunleavy is put on trial and convicted of madness. It is the only reasonable explanation the court can see for her willful behavior, so she is sent away to Sanibel Asylum to be restored to a good, compliant woman. Iris knows, though, that her husband is the true criminal; she is no lunatic, only guilty of disagreeing with him on notions of justice, cruelty, and property.
On this remote Florida island, cut off by swamps and seas and military blockades, Iris meets a wonderful collection of residents— some seemingly sane, some wrongly convinced they are crazy, some charmingly odd, some dangerously unstable. Which of these is Ambrose Weller, the war-haunted Confederate soldier whose memories terrorize him into wild fits that can only be calmed by the color blue, but whose gentleness and dark eyes beckon to Iris?
The institution calls itself modern, but Iris is skeptical of its methods, particularly the dreaded "water treatment." She must escape, but she has found new hope and love with Ambrose. Can she take him with her? If they make it out, will the war have left anything for them to make a life from, back home?
Blue Asylum is a vibrant, beautifully-imagined, absorbing story of the lines we all cross between sanity and madness. It is also the tale of a spirited woman, a wounded soldier, their impossible love, and the undeniable call of freedom.
________________________________________________________________________________
Please fill out our super short registration form (<—click here) by April 30th for a chance to win a set of up to ten copies of In My Father's Country or Blue Asylum for your book club!  We will randomly choose a winner at the end of the month.  This contest is open to clubs in the US and Canada only (our apologies to friends in other countries).
Best of luck!
We 
LOVE

 Book Clubs!