About Skinny Bitch Book of Vegan Swaps
• Paperback: 288 pages
• Publisher: HarperOne (March 13, 2012)
A Must-Have Guide for the Smart Vegan
A vegan lifestyle is the newest hot health trend—thanks in no small part to the smart, fearless, and number one New York Times bestselling Skinny Bitch books. But with so much conflicting information out there, it's not always easy to make the best choices. Now Skinny Bitch coauthor Kim Barnouin is back with a book that makes making the right vegan choice easy. In Skinny Bitch Book of Vegan Swaps, Kim Barnouin takes the mystery out of following a plant-based diet. It's a comprehensive, user-friendly guide that tells you what foods look healthy, but actually aren't, and explains how to avoid the stuff you don't want. And because Kim knows that the concerns of today's savvy eaters run the gamut from calories to carbon footprints, she explains it all.
Skinny Bitch Book of Vegan Swaps offers exciting and tasty alternatives for vegans, whether you're just starting out or have been a vegan for years. Barnouin's fun, no-nonsense voice sparkles on every page and in helpful lists and features like:
The Best Places for Vegans to Grocery Shop
Delicious Swaps for Your Favorite Dairy Products
Top Ten Things to Eat While Stranded in an Airport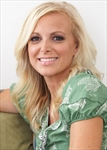 About Kim Barnouin
Kim Barnouin holds a master of science in holistic nutrition. A former model, she is the author or coauthor of seven books and has successfully counseled models, actors, athletes, and other professionals using the Skinny Bitch method. She lives in Los Angeles.
Kim's Tour Stops
Monday, March 12th: Healthy Tipping Point
Wednesday, March 14th: Vegan Crunk
Thursday, March 15th: Get Healthy With Heather
Monday, March 19th: ::steph chows::
Wednesday, March 21st: The Road to Here
Thursday, March 22nd: Lilveggiepatch
Monday, March 26th: The Healthy Everthingtarian
Tuesday, March 27th: Peanut Butter Fingers
Wednesday, March 28th: Kahakai Kitchen
Thursday, March 29th: Oh She Glows
Wednesday, April 9th: Healthy Girls' Kitchen