About The Idea Factory
• Hardcover: 432 pages
• Publisher: The Penguin Press (March 15, 2012)
A sweeping, atmospheric history of Bell Labs that highlights its unparalleled role as an incubator of innovation and birthplace of the century's most influential technologies.
In the decades between 1920 and 1980, Bell Laboratories in New Jersey was the most innovative and productive institution in the United States.  Long before Silicon Valley, Bell Labs attracted the best and brightest, and fomented the genesis of most of today's technology.  In The Idea Factory: Bell Labs and the Great Age of American Innovation, New York Times Magazine writer Jon Gertner offers a compelling and eye-opening look at the unique magic of Bell Labs—and American innovation at its best.
A citadel of science and scholarship and a hotbed of creative thinking not since duplicated, Bell Labs employed nearly 15,000 people in its peak.  These ingenious, often eccentric scientists would become revolutionaries and even legends as they developed technologies like radars, lasers, transistors, satellite and mobile phones that can all be traced back to Bell Labs. The Idea Factory reveals the forces that set off this explosion of innovation.  As Gertner illustrates, Bell Labs combined the best aspect of both academic and corporate worlds: hiring the brightest and usually the youngest minds, creating a culture and architecture that forced employees in different fields to work together, with intellectual freedom and little pressure to create moneymaking innovations; at the same time, they aggressively pursued m
arketable technology.  Many of today's researchers and business leaders seek to emulate this model, but haven't yet been able to arrive at the same balance that made Bell Labs so successful.
The Idea Factory vividly and engagingly acquaints us with "The Young Turks," the revolutionaries and sometimes legendary figures who worked at Bell Labs over the decades. We meet Mervin Kelly, a man of brilliant business acumen and keen personal interest in science, who led Bell through some of its most transformative and creative years; John Pierce, who created the first communications satellite; Claude Shannon, an eccentric math genius who rode his unicycle in the halls of Bell Labs and came up with Information Technology, what we today call "IT."
The Idea Factory is a sweeping narrative that not only takes us to the heart of an unparalleled incubator of novelty and the birthplace of the century's most influential technologies, but also perfectly captures the soaring thrill of innovation.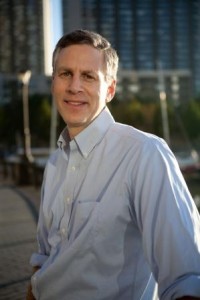 About Jon Gertner
Jon Gertner has been a contributing writer at The New York Times Magazine since 2004, where he writes about business, technology, and society. He has also served as a senior editor for Money and The American Lawyer. A graduate of Cornell University, he lives in New Jersey with his wife and their two children.
Jon's Tour Stops
Tuesday, March 13th: Patricia's Wisdom
Wednesday, March 14th: EmSun part 1, part 2
Thursday, March 15th: The Rat Race Trap
Friday, March 23rd: Balance In Me
Tuesday, March 27th: Nanxi Liu
Thursday, March 29th: Shower Musings
Tuesday, April 3rd: The Psychology of Wellbeing
Wednesday, April 4th: I'm Booking It
Friday, April 13th: Ted Lehmann's Bluegrass, Books, and Brainstorms
Monday, April 16th: I'm Not Actually A Geek