Book club members will find a lot to talk about, including coming of age, parenting, grieving, teen sex, first love, sibling relationships, and the healing power of music.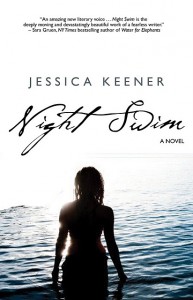 Sixteen-year-old Sarah Kunitz lives in a posh, suburban world of 1970 Boston. From the outside, her parents' lifestyle appears enviable – a world defined by cocktail parties, expensive cars, and live-in maids to care for their children – but inside their five-bedroom house, all is not well for the Kunitz family. Coming home from school, Sarah finds her well-dressed, pill popping mother lying disheveled on their living room couch. At night, to escape their parents' arguments, Sarah and her oldest brother, Peter, find solace in music, while her two younger brothers retreat to their rooms and imaginary lives. Any vestige of decorum and stability drains away when their mother dies in a car crash one terrible winter day. Soon after, their father, a self-absorbed, bombastic professor begins an affair with a younger colleague. Sarah, aggrieved, dives into two summer romances that lead to unforeseen consequences. In a story that will make you laugh and cry, Night Swim shows how a family, bound by heartache, learns to love again.
"This memorable debut will strike a universal chord with readers" –Hazel Rochman, Booklist
"Moving," —The New York Times, Newly Released Books
"Keener's observations perfectly capture a certain kind of 1970s adolescence" —The Boston Globe
"Night Swim is the deeply moving and devastatingly beautiful work of a fearless writer." –Sara Gruen, New York Times bestselling author of Water for Elephants
"I loved this novel! It was just breathtaking…The pages ached." –Caroline Leavitt, New York Times bestselling author of Pictures of You
"This gripping first novel announces the arrival of a strong, distinct and fully evolved new voice." –Jennifer Egan, Pulitzer Prize winner, author of A Visit From the Goon Squad
---
Please fill out our super short registration form (<—click here) by February 29th for a chance to win a set of up to ten copies of Night Swim for your book club! We will randomly choose a winner at the end of the month. This contest is open to clubs in the US and Canada only (our apologies to friends in other countries).
Best of luck!
We 
LOVE

 Book Clubs!