About Between a Rock and a Hot Place
• Paperback: 304 pages
• Publisher: Harper Paperbacks (February 21, 2012)
As she approached her fiftieth birthday, Tracey Jackson found herself bombarded by a catchphrase on everyone's lips: "Fifty is the new thirty." With a comedy writer's training and a screenwriter's eye for detail, Jackson skewers that particular myth with a hilarious, bare-knuckled, and ultimately practical appraisal of what middle age really means today. Jackson not only faces the elephant in the room, she puts it under a (very large) microscope, confronting the truth about death, work, and sex in what the French call the "third age."
"Tracey Jackson confronts the speed bumps of life with wit, brilliant insights, and…common sense….Between a Rock and a Hot Place is more than a good read, it's good company."
—John Berendt, author of Midnight in the Garden of Good and Evil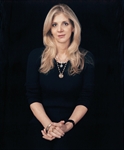 About Tracey Jackson
A screenwriter for seventeen years, Tracey Jackson has written and sold films to all the major studios. She blogs on her own website and for the Huffington Post. She lives in New York City with her husband, Glenn Horowitz, and two daughters.
Website | Tumblr | Facebook | Twitter
Tracey's Tour Stops
Tuesday, February 21st: Seaside Book Nook
Wednesday, February 22nd: Helen's Book Blog
Thursday, February 23rd: Peppermint PhD
Monday, February 27th: Living in the Kitchen with Puppies
Wednesday, March 7th: Sara's Organized Chaos
Thursday, March 8th: My Book Retreat
Monday, March 12th: I Read. Do you?
Tuesday, March 13th: Silver & Grace
Friday, March 16th:  Boarding in my Forties