About Before I Go To Sleep
• Paperback: 368 pages
• Publisher: Harper Paperbacks (February 7, 2012)
Memories define us.
So what if you lost yours every time you went to sleep?
Your name, your identity, your past, even the people you love—all forgotten overnight. And the one person you trust may be telling you only half the story.
Welcome to Christine's life.
"Imagine drifting off every night knowing that your memories will be wiped away by morning. That's the fate of Christine Lucas, whose bewildering internal world is rendered with chilling intimacy in this debut literary thriller. . . . You'll stay up late reading until you know." — People (4 stars)
"The summer's single most suspenseful plot belongs to BEFORE I GO TO SLEEP. . . . pure page-turner." — New York Times
"An exceptional thriller. It left my nerves jangling for hours after I finished the last page." — Dennis Lehane
"Quite simply the best debut novel I have ever read." — Tess Gerritsen

Purchase Links
Amazon | IndieBound | Barnes & Noble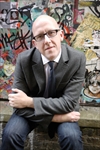 About S.J. Watson
S. J. Watson lives in London and worked in the National Health Service for a number of years. In 2009, Watson was accepted into the first Faber Academy Writing a Novel course, a rigorous and selective program that covers all aspects of the novel-writing process. Before I Go to Sleep is the result, and has now been sold in more than thirty-five languages around the world.
Find out more about S.J. at his website, and follow him on Facebook and Twitter.
S.J.'s Tour Stops
Tuesday, February 7th: Book Addiction
Wednesday, February 8th: Bibliosue
Monday, February 13th: Coffee and a Book Chick
Thursday, February 14th: Sarah Reads Too Much
Monday, February 20th: Unabridged Chick
Monday, February 20th: Book Hooked Blog
Tuesday, February 21st: Elle Lit.
Wednesday, February 22nd: Wordsmithonia
Thursday, February 23rd: The Road to Here
Friday, February 24th: Boarding in My Forties
Friday, February 24th: Bloggin' 'Bout Books
Tuesday, February 28th: Sara's Organized Chaos
Wednesday, February 29th: Tina's Book Reviews
Friday, March 2nd: The Scarlet Letter
Wednesday, March 7th: Eclectic/Eccentric
Thursday, March 8th: Life is Short. Read Fast.
Wednesday, March 14th: Book Journey