Book club members will want to share their own wedding memories and their hopes and dreams for their daughters while discussing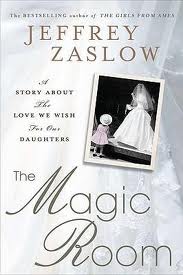 The Magic Room: A Story About the Love We Wish for Our Daughters by Jeffrey Zaslow
The New York Times bestselling journalist and author of The Girls from Ames, Jeffrey Zaslow, takes us to a multi- generational family owned small-town bridal shop to explore the emotional lives of women in the 21st century.
You may not have heard of Fowler, Michigan, much less Becker's Bridal. But for the thousands of women who have stepped inside, Becker's is the site of some of the most important moments of their lives-moments that speak to us all. Housed in a former bank, the boutique owners transformed the vault into a "magic room," with soft church lighting, a circular pedestal, and mirrors that make lifelong dreams come true.
Illuminating the poignant aspects of a woman's journey to the altar, The Magic Room tells the stories of memorable women on the brink of commitment. Run by the same family for years, Becker's has witnessed transformations in how America views the institution of marriage; some of the shop's clientele are becoming stepmothers, or starting married life for a second time. In The Girls from Ames, beloved author Jeffrey Zaslow used friendships to explore the emotional lives of women. In The Magic Room, he turns his perceptive eye to weddings and weaves together secrets, memories and family tales to explore the hopes and dreams we have for our daughters.
______________________________________________________________________________________
Please fill out our super short registration form (<—click here) by January 31st for a chance to win a set of up to ten copies of The Magic Room for your book club!  We will randomly choose winners at the end of the month.  This contest is open to clubs in the US and Canada only (our apologies to friends in other countries).
Best of luck!
We 
LOVE

 Book Clubs!