We have four fantastic books in our
Book Club of the Month Contest for November!
________________________________________________________
Family, class, race, power, and privilege.
Book clubs will love Camp Nine.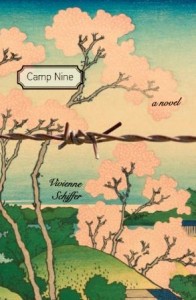 Camp Nine by Vivienne Schiffer
The time of fear and prejudice following the bombing of Pearl Harbor and the Deep South are the setting for Camp Nine. The novel's narrator, Chess Morton, lives with her widowed mother in Rook, a town too tiny to have a bank, a library, a restaurant, or even a church. Chess's days are quiet and secluded until the appearance of a concentration camp built to imprison thousands of Japanese Americans forced by military exclusion order to leave their homes on the West Coast.
Chess's life becomes intertwined with those of two young internees, Henry and David Matsui, and that of an American soldier mysteriously connected to her mother's past. As Chess watches the struggles and triumphs of these strangers and sees her mother seek justice for these people who came briefly and involuntarily to call the Arkansas Delta their home, she discovers surprising and disturbing truths about her family's painful past.
"Camp Nine beautifully captures a sense of time and place that resonates with authenticity. It shows an intimate familiarity with the internment camp at Rohwer-how the camp came to be situated in such a remote part of Arkansas, life within the camp, and the feelings of the Japanese Americans held captive there, as well as what life was like in the 1940s for the locals outside. It is a perspective that has never been presented. I love this book and recommend it as a must-read." -Delphine Hirasuna, author of The Art of Gaman: Arts and Crafts from the Japanese American Internment Camps, 1942 – 1946
"Through the prisms of place, family, race, class, power, and privilege, Vivienne Schiffer skillfully constructs a necessarily complicated portrait of the era into a meaningful mosaic and satisfying story." -Grif Stockley, author of Ruled by Race: Black/White Relations in Arkansas from Slavery to the Present (University of Arkansas Press)
_________________________________________________________
Extraordinary women who broke society's rules – book clubs will be inspired by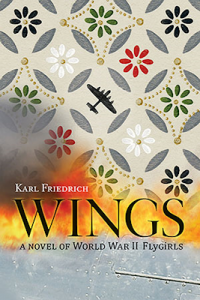 Sally Ketchum comes from dirt-poor farm folk. She has little chance of bettering her life until a mysterious barnstormer named Tex teaches her to fly—and becomes the first person worthy of her love. But Tex dies in a freak accident, leaving Sally to make her own way in the world. She enrolls in the U.S. military's Women Airforce Service Pilots (WASP) program, and in a special school located in West Texas begins learning to fly the biggest, fastest, meanest airplanes the military has to offer. She also reluctantly becomes involved with Beau Bayard, a flight instructor and aspiring writer, who seems to offer her everything she could want. But many people see no place for a "skirt" in the cockpit, and Sally soon finds herself pitted against a high-powered Washington lawyer who wants to disband the WASP once and for all.  Their battle is a story of extraordinary women who broke society's rules and became heroes, and of men who stood in their way.
"Friedrich merges an often-neglected part of U.S. aviation history with a page-turning plot in his commendable debut . . . rich historical details add zest . . . an entertaining and spirited saga." —Publishers Weekly 
"Shocking . . . disturbing . . . insightful . . . a welcome addition to the historical novels depicting the marginalized position of women during America's wars." —Historical Novels Review 
"Wings is a compulsively readable novel, with action in the skies, tension on the ground, a lot of heated dialogue, and a little romance." —Blog review from Diary Of An Eccentric
___________________________________________________________
A coming of age memoir of faith and betrayal – book clubs will enjoy discussing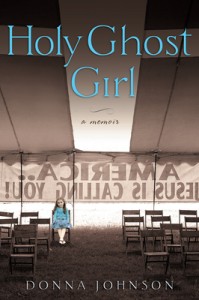 Donna Johnson's remarkable story of being raised under the biggest gospel tent in the world, by David Terrell, one of the most famous evangelical ministers of the 1960s and 70s. Holy Ghost Girl is a compassionate, humorous exploration of faith, betrayal, and coming of age on the sawdust trail.
She was just three years old when her mother signed on as the organist of tent revivalist David Terrell, and before long, Donna Johnson was part of the hugely popular evangelical preacher's inner circle. At seventeen, she left the ministry for good, with a trove of stranger- than-fiction memories. A homecoming like no other, Holy Ghost Girl brings to life miracles, exorcisms, and faceoffs with the Ku Klux Klan. And that's just what went on under the tent.
As Terrell became known worldwide during the 1960s and '70s, the caravan of broken-down cars and trucks that made up his ministry evolved into fleets of Mercedes and airplanes. The glories of the Word mixed with betrayals of the flesh and Donna's mother bore Terrell's children in one of the several secret households he maintained. Thousands of followers, dubbed "Terrellites" by the press, left their homes to await the end of the world in cultlike communities. Jesus didn't show, but the IRS did, and the prophet/healer went to prison.
Recounted with deadpan observations and surreal detail, Holy Ghost Girl bypasses easy judgment to articulate a rich world in which the mystery of faith and human frailty share a surprising and humorous coexistence.
______________________________________________________________
Love, hope, passion, and history – the past comes alive in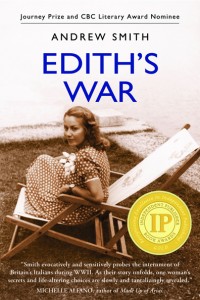 In this heart-wrenching, yet ultimately heart-warming, novel based on historical fact, we meet young Edith Maguire, whose life is transformed when she is caught up in the trials and tribulations of her Italian neighbors following Britain's internment policy of 1940.
Edith, a pregnant newlywed, moves in with her mother-in-law at the outbreak of World War II when her husband – a man she's not sure she loves but whom she married, as so many women have, for other complicated reasons – is sent away to fight. Befriended by Anna Baccanello and her family, Edith is horrified when Anna's sons – like all male Italians between the ages of 16 and 70 living in Great Britain – are arrested.
A series of visits to see her imprisoned friend Carlo Baccanello, whose incapacitated wife is wheelchair-bound, creates complications that are not unheard-of in wartime but that result in a legacy Edith, her husband Joe, and her two sons, Will and Shamus, could never have anticipated.
Edith's story is interwoven with observations and recollections by her two adult sons during a day in 2002 spent waiting in Venice for their mother, now in her '80s, to join them for a brief holiday. The two men's ruminations and discussions of their childhood slowly release hidden memories and reveal long-held secrets.  A gleaming silver cigarette case, which appears throughout the novel, jars numerous memories and represents all the love, hope, and passion with which human beings live their lives and make their choices.
'Edith's War' won a  Gold Medal for Fiction at the Independent Publisher Book Awards, 2011.
Smith deftly draws you into the dynamics of several families both past (1940) and present (2002). A gripping and tender look at a war (WWII) we thought we knew.  – Chip Barkel,Toronto
Reader
Edith's War is a wonderful story beautifully written. The confident way that Smith handles  the structure, moving between time periods and places, is really impressive. A terrific accomplishment. – Author Jack Batten
Edith's War is an intricate study of war, love and survival. A must read.   – Zoomer Magazine
______________________________________________________________________________________
Please fill out our super-short registration form (<—click here) by November 30th for a chance to win a set of up to ten copies of one of these great books for your book club!  We will randomly choose winners at the end of the month.  This contest is open to clubs in the US and Canada only (our apologies to friends in other countries).
Best of luck!
We 
LOVE

Book Clubs!