We have three fantastic books in our  
Book Club of the Month Contest for October!
 ________________________________________________________
Forced to start over in a world where they don't fit in…
Book clubs will find much to talk about in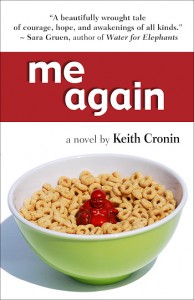 Me Again by Keith Cronin
Miracles can be damned inconvenient. That's what thirty-four-year-old stroke victim Jonathan Hooper learns when he wakes up after spending six years in a coma. Everyone calls Jonathan's recovery a "miracle," but since nobody had expected him to recover, his sudden awakening becomes an awkward intrusion on the lives of his family and friends. To make matters worse, Jonathan doesn't even recognize these people. The stroke has wiped away most of Jonathan's memory, while the coma has withered his body.
In short, Jonathan's not the man he used to be – whoever that was.
The only bright spot for Jonathan is Rebecca Chase, a young woman he meets in the hospital's long-term recovery unit. A stroke has drastically changed her personality, making her a stranger to her husband. Gone is the vivacious trophy wife, replaced by a shy, awkward woman with a knack for saying exactly the wrong thing.
Constantly reminded how badly they fit in, Jonathan and Rebecca find much in common with each other as they work on rebuilding – and rediscovering – their lives. But while Rebecca copes with her husband's frustrated attempts at "fixing" her, Jonathan finds mounting evidence that the man he used to be was not necessarily a very good man. And everywhere he turns, Jonathan keeps discovering more secrets that his own loved ones are keeping from him.
A steadily accelerating story exploring the irony, humor, and opportunity that can accompany personal calamity, Me Again follows the intertwined paths of two people forced to start over in life: one looking for his place in a world that has moved on without him, the other struggling to navigate a relationship with a man who wishes she were someone else.
"A beautifully wrought tale of courage, hope, and awakenings of all kinds."  ~ Sara Gruen, author of Water for Elephants
"Heart and humor are inseparable in Keith Cronin's engaging debut."  ~ Susan Henderson, author of Up from the Blue
"A work that will make readers laugh and think." ~ Lauren Baratz-Logsted, author of  The Thin Pink Line
__________________________________________________________________________________________
Love, family ties and obligation are all themes to explore in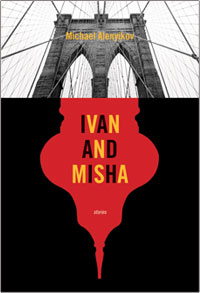 Ivan and Misha by Michael Alenyikov
In Ivan and Misha, Michael Alenyikov portrays the complexities of love, sexuality, and the bonds of family with boldness and lyric sensitivity. As the Soviet Union collapses, two young brothers are whisked away from Kiev by their father to start life anew in America. The intricately linked stories in this powerful debut, set in New York City at the turn of the millennium, swirl about the uneasy bond between fraternal twins, Ivan and Misha, devoted brothers who could not be more different: bipolar Ivan, like their father, is a natural seducer, a gambler who always has a scheme afoot between fares in his cab and stints in Bellevue. Misha struggles to create a sense of family with his quixotic boyfriend, Smith, his wildly unpredictable brother, and their father, Lyov ("Call  me Louie!"), marooned in Brighton Beach yet ever the ladies' man. Father and sons are each haunted by the death of Sonya, a wife to Lyov, a mother to his sons. An evocative and frank exploration of identity, loss, dislocation, and desire, Ivan and Misha marks the arrival of a uniquely gifted voice in American fiction.
"For the Russian immigrant twins who are the main characters of Ivan and Misha, everyday existence consists of heartbreak, love, and the unexpected. With exuberance and dark humor, Michael Alenyikov depicts New York lives.  These wonderful connected stories are full of warmth, psychological insight, and winning originality."  — Alice Mattison, author of Nothing Is Quite Forgotten In Brooklyn
"A haunting collection of love and duty."  — Marie Myung-Ok Lee, author ofSomebody's Daughter
___________________________________________________________________________________________
What does it take to have a successful long term marriage?  Book clubs will find out in
The Secret Lives of Wives: Women Share What It Really Takes to Stay Married by Iris Krasnow

A bestselling, groundbreaking author investigates successful long term marriages, interviewing wives and their uncensored strategies for staying married.

America's high divorce rate is well known. But little attention has been paid to the flip side: couples who creatively (sometimes clandestinely) manage to build marriages that are lasting longer than we ever thought possible. What's the secret? To find out, bestselling journalist Iris Krasnow interviewed more than 200 wives whose marriages have survived for 15 to 70 years. They are a diverse cast, yet they share one common and significant trait: They have made bold, sometimes secretive and shocking choices on how to keep their marital vows, "till death do us part," as Krasnow says, "without killing someone first."

In raw, candid, titillating stories, Krasnow's cast of wise women give voice to the truth about marriage and the importance of maintaining a strong sense of self apart from the relationship. Some spend summers separately from their partners. Some make time for wine with the girls. One septuagenarian has a recurring date with an old flame from high school. In every case, the marriage operates on many tracks, giving both spouses license to pursue the question "Who am I apart from my marriage?" Krasnow's goal is to give women permission to create their own marriages at any age. Marital bliss is possible, she says, if each partner is blissful apart from the other.

A fascinating window on the many faces of modern relationships, The Secret Lives of Wives brims with inspiring and daring examples of women who have it both ways: a committed marriage and personal adventures in uncharted territory. For anyone who wants to stay married and stay sane, this is the book to read!

______________________________________________________________________________________
Please fill out our super-short registration form (<—click here) by October 31st for a chance to win a set of up to ten copies of Me Again by Keith Cronin, up to ten copies of Ivan and Misha by Michael Alenyikov, or up to 10 copies of The Secret Lives of Wives: Women Share What it Takes to Stay Married for your book club!  We will randomly choose a winner at the end of the month.  This contest is open to clubs in the US and Canada only (our apologies to friends in other countries).
Best of luck!
We 
LOVE

Book Clubs!