Hardcover: 256 pages
Publisher: HarperOne (June 7, 2011)
In the tradition of Barbara Brown Taylor and Sue Monk Kidd, Sarah Sentilles offers a poignant, beautifully wrought memoir of her personal crisis of faith.
Sentilles was on the way to becoming a priest when she ultimately faced the truth: she no longer believed. Her moving story examines the question of how you leave the most powerful being in the universe—and, if you do, where do you go? Breaking Up with God is an inspiring reflection no matter where you stand on the matter of faith.
"Honest, like down-to-the-core honest, beyond what most people are capable of, especially in public on the topic of faith.  I admire her as much for her conviction as for her talent as a writer." —Kelly Corrigan, New York Times bestselling author of The Middle Place
To learn more about Breaking Up with God: A Love Story, check out the book's page on the Harper Collins website.
.
About Sarah Sentilles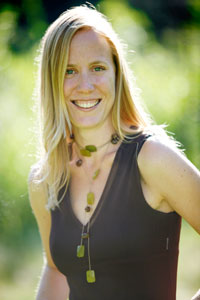 Sarah Sentilles is a scholar of religion, an award-winning speaker, and the author of three books including Breaking Up with God: A Love Story, which will be published in June. She earned a bachelor's degree from Yale and a master's of divinity and a doctorate in theology from Harvard, where she was awarded the Billings Preaching Prize and was the managing editor of the Journal of Feminist Studies in Religion. At the core of her scholarship, writing, and activism is a commitment to investigating the roles religious language, images, and practices play in oppression, violence, social transformation, and justice movements. She taught critical thinking at California State University Channel Islands for three years and is currently at work on a novel and an edited volume that investigates the intersections of torture and Christianity.
Sarah writes, teaches, and speaks about how to create a more just and life-giving world—and the obstacles people face when trying to do so. She has been invited to speak around the country about creativity, imagination, feminism, theology, faith and doubt, religion and violence, ending state-sponsored torture, and the ethical challenges facing religious communities in the twenty-first century.
To learn more, visit Sarah's website at www.sarahsentilles.com.
.
Sarah Sentilles TLC Book Tours TOUR STOPS:
Monday, May 23rd:  Arriving at Your Own Door
Tuesday, May 31st:  Regular Rumination
Friday, June 3rd:  Life in Review
Monday, June 6th:  Ponderings on a Faith Journey
Thursday, June 9th:  Book Reviews by Molly
Monday, June 13th:  Broken Teepee
Monday, June 20th:  Carol's Notebook
Monday, June 27th:  Book Club Classics!
Wednesday, July 27th:  In the Next Room
TBD:  Colloquium