About What Language Is (And What It Isn't and What It Could Be)
New York Times bestselling author and renowned linguist, John McWhorter, explores the complicated and fascinating world of languages. From Standard English to Black English; obscure tongues only spoken by a few thousand people in the world to the big ones like Mandarin – What Language Is celebrates the history and curiosities of languages around the world and smashes our assumptions about "correct" grammar.
An eye-opening tour for all language lovers, What Language Is offers a fascinating new perspective on the way humans communicate. From vanishing languages spoken by a few hundred people to major tongues like Chinese, with copious revelations about the hodgepodge nature of English, John McWhorter shows readers how to see and hear languages as a linguist does. Packed with Big Ideas about language alongside wonderful trivia, What Language Is explains how languages across the globe (the Queen's English and Surinam creoles alike) originate, evolve, multiply, and divide. Raising provocative questions about what qualifies as a language (so-called slang does have structured grammar), McWhorter also takes readers on a marvelous journey through time and place-from Persian to the languages of Sri Lanka- to deliver a feast of facts about the wonders of human linguistic expression.
About John McWhorter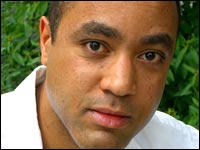 John McWhorter is the author of the bestseller Losing the Race: Self-Sabotage in Black America, The Power of Babel: A Natural History of Language, and four other books. He is associate professor of linguistics at the University of California at Berkeley, a senior fellow at the Manhattan Institute, and a contributing editor to The City Journal and The New Republic. He has been profiled in the Los Angeles Times, The Washington Post, The Philadelphia Inquirer, and has appeared on Dateline NBC, Politically Incorrect, and The NewsHour with Jim Lehrer.
John McWhorter's TLC Book Tours TOUR STOPS:
Monday, August 1st:  Book Club Classics!
Thursday, August 4th:  One Book Shy of a Full Shelf
Friday, August 5th:  Melody & Words
Monday, August 8th:  Rundpinne
Tuesday, August 9th:  Lit and Life
Thursday, August 11th:  The Broke and the Bookish
Friday, August 12th:  In the Next Room
Monday, August 15th:  Book Dilettante
Tuesday, August 16th:  BookNAround
Thursday, August 18th:  My Book Retreat
Monday, August 22nd:  At Home with Books
Tuesday, August 23rd:  Raging Bibliomania
Thursday, August 25th:  Unabridged Chick
Friday, August 26th:  Acting Balanced
Monday, August 29th:  Overstuffed  
Wednesday, August31st:  SMS Book Reviews