Hardcover: 368 pages
Publisher: Random House (June 21, 2011)
The past is not past for Katharine Merrill. Even after two decades of volatile marriage, Katharine still believes she can have the life that she felt promised to her by those first exhilarating days with her husband, Frederick. For two months, just before Frederick left to fight in World War II, Katharine received his total attentiveness, his limitless charms, his astonishing range of intellect and wit. Over the years, however, as Frederick's behavior and moods have darkened, Katharine has covered for him, trying to rein in his great manic passions and bridge his deep wells of sadness: an unending project of keeping up appearances and hoping for the best. But the project is failing. Increasingly, Frederick's erratic behavior, amplified by alcohol, distresses Katharine and their four daughters and gives his friends and family cause to worry for his sanity. When, in the summer of 1962, a cocktail party ends with her husband in handcuffs, Katharine makes a fateful decision: She commits Frederick to Mayflower Home, America's most revered mental asylum.
There, on the grounds of the opulent hospital populated by great poets, intellectuals, and madmen, Frederick tries to transform his incarceration into a creative exercise, to take each meaningless passing moment and find the art within it. But as he lies on his room's single mattress, Frederick wonders how he ever managed to be all that he once was: a father, a husband, a business executive. Under the faltering guidance of a self-obsessed psychiatrist, Frederick and his fellow patients must try to navigate their way through a gray zone of depression, addiction, and insanity.
Meanwhile, as she struggles to raise four young daughters, Katharine tries to find her way back to Frederick through her own ambiguities, delusions, and the damages done by her rose-colored belief in a life she no longer lives.
Inspired by elements of the lives of the author's grandparents, this haunting love story shifts through time and reaches across generations. Along the way, Stefan Merrill Block stunningly illuminates an age-old truth: even if one's daily life appears ordinary, one can still wage a silent, secret, extraordinary war.
"The Storm at the Door is a fascinating exploration of Stefan Merrill Block's family history, both of what actually and what might've happened following his grandmother's fateful decision to commit his manic depressive grandfather to a mental institution. Told with intelligence, a poetic ear for language, and empathy, The Storm at the Door is a captivating story about separation and enduring love."  –Lisa Genova, New York Times bestselling author of Still Alice
"The Storm at the Door is a brilliant and passionate examination of the outer limits of language, sanity, and the human heart. At its center is the heartbreaking love story of a writer's lost grandparents, an enduring marriage interrupted by madness, sustained by language and memories. Stefan Merrill Block is an amazing writer, at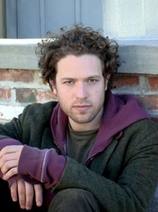 once cerebral and tender, lyrical and profound. The Storm at the Door is an enthrallingly original book."  –Kate Christensen, author of The Great Man, winner of the PEN/Faulkner Award
.
About Stefan Merrill Block
Stefan Merrill Block was born in 1982 and grew up in Plano, Texas. He graduated from Washington University in St. Louis in 2004. He lives in Brooklyn.
.
Stefan Merrill Block's TLC Book Tours TOUR STOPS:
Monday, June 13th:  Luxury Reading
Tuesday, June 14th:  Book Club Classics
Wednesday, June 15th:  Books and Cooks
Thursday, June 16th:  Jenn's Bookshelves
Friday, June 17th:  Diary of an Eccentric
Tuesday, June 21st:  Life in Review
Thursday, June 23rd:  Girls Gone Reading
Friday, June 24th:  Rundpinne
Saturday, June 25th:  Colloquium
Monday, June 27th:  Man of La Book
Friday, July 1st:  Book Reviews by Molly
Tuesday, July 5th:  Crazy for Books
Thursday, July 7th:  Raging Bibliomania
Monday, July 11th:  Melody & Words
Tuesday, July 12th:  Amused by Books
Monday, July 18th:  Take Me Away