Paperback: 256 pages
Publisher: Ballantine Books (July 12, 2011)
A single day in Paris changes the lives of three Americans as they each set off to explore the city with a French tutor, learning not just about language but also about love and loss as their lives intersect in surprising ways.
"Elegant and evocative…Sussman has created wonderful characters who take us through the city as they discover hidden places, including those in their own hearts." – Luanne Rice
.
"Charming Romantic, and brimming with joie de vivre." -Amanda Eyre Ward
.
About Ellen Sussman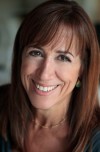 Ellen Sussman is the author of the novel On a Night Like This, which was a San Francisco Chronicle Best–Seller and was translated into six languages.  She has published numerous essays and short stories.  Ellen teaches creative writing in both private classes and through Stanford Continuing Studies. She lived in Paris for five years and now lives in Northern California.
Connect with Ellen on her website, www.ellensussman.com.
Ellen Sussman's TLC Book Tours TOUR STOPS:
Tuesday, July 5th:  Unabridged Chick
Wednesday, July 6th:  Life in Review
Thursday, July 7th:  Knowing the Difference
Monday, July 11th:  Teresa's Reading Corner
Tuesday, July 12th:  Girls Gone Reading
Wednesday, July 13th:  Well Read Wife
Thursday, July 14th:  BookNAround
Tuesday, July 19th:  Books Like Breathing
Wednesday, July 20th:  Nomad Reader
Thursday, July 21st: Life in the Thumb
Monday, July 25th:  Luxury Reading
Wednesday, July 27th:  Kahakai Kitchen
Friday, July 29th:  Chick Lit Reviews