Hardcover: 288 pages
Publisher: Putnam Adult (June 9, 2011)
Moving, touching, wonderfully written, inspiring to read." —Garth Stein, author of The Art of Racing in the Rain
At an intimate, festive dinner party in Seattle, six women gather to celebrate their friend Kate's recovery from cancer. Wineglass in hand, Kate strikes a bargain with them.  To celebrate her new lease on life, she'll do the one thing that's always terrified her: white-water rafting. But if she goes, all of them will also do something they always swore they'd never do—and Kate is going to choose their adventures.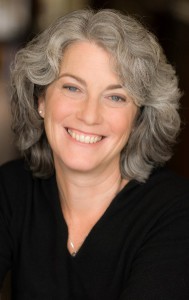 Shimmering with warmth, wit, and insight, Joy for Beginners is a celebration of life: unexpected, lyrical, and deeply satisfying.
About Erica Bauermeister
Erica Bauermeister is the author of the national bestseller The School of Essential Ingredients (Jan. 2009).  She lives in Seattle with her family.
Connect with Erica on her website, www.ericabauermeister.com, and on her Facebook page.
.
.
.
Erica Bauermeister's TLC Book Tours TOUR STOPS:
Monday, June 6th:  Peeking Between the Pages
Tuesday, June 7th:  Raging Bibliomania
Wednesday, June 8th:  Books, Movies, and Chinese Food
Thursday, June 9th:  Jenny Loves to Read
Friday, June 10th:  Amusing Reviews
Monday, June 13th:  Book Club Classics!
Tuesday, June 14th:  2 Kids and Tired
Wednesday, June 15th:  Books and Movies
Thursday, June 16th:  Joyfully Retired
Friday, June 17th:  Redlady's Reading Room
Monday, June 20th:  Luxury Reading
Tuesday, June 21st:  Teresa's Reading Corner – guest post
Wednesday, June 22nd:  Rundpinne
Thursday, June 23rd:  Lit and Life
Monday, June 27th:  The Brain Lair
Tuesday,June 28th:  Library of Clean Reads
Wednesday, June 29th:  Life in Review
Thursday, June 30th:  POOF.. books
Friday, July 1st:  Teresa's Reading Corner – review