Paperback: 280 pages
Publisher: Linchpin Publishing (March 1, 2011)
Since the time Tim O'Donnell was a nuisance to the nuns, he has been asking questions about religion. He went on to become a successful owner of daily newspapers and consulting firms, but the questions remained. So at age forty, he sold his businesses, built a log home in the woods, and dove headfirst into the taboo questions of Christianity-not as a theologian but as an investigative reporter. The answers surprised him.
A View from the Back Pew explores the issues we all encounter on our spiritual journey:
* Are spirituality and religion the same thing?
* Is guilt a necessary part of the religious experience?
* Do the rules of religion actually bring me closer to God?
* Will open-minded inquiry help or hinder my spiritual progress?
* Is God a concept? A reality? A Myth?
* Did God create man? Did man invent God?
* If mankind's capacity to understand the world has advanced exponentially in the last two thousand years, shouldn't our spiritual understanding be evolving too?
* And, perhaps most importantly, am I looking for God in the right places?
Candid, humorous, and at times controversial, O'Donnell takes us on a powerful search for balance-between faith and personal experience, between the roots of Christianity and later layers of doctrine, and between systems of belief and a direct connection to the spiritual presence we call God. In this bold quest for truth, you'll delve into everything from the "mystery" of the Trinity and the Virgin Birth to celibacy in the priesthood to Jesus' key teachings about "the kingdom" and the real purpose of prayer. "My hope," writes O'Donnell, "is that if you are drawn to the Divine but labor over dogma, doctrine, and ritual, you will find support and a fresh perspective in my view from the back pew."
"Entertaining and enlightening, Tim O'Donnell's timely work presents us with a rare opportunity to delve deeply into the real issues of faith and personal spirituality. Powerful, poignant and refreshing." — Patricia Spadaro, Honor Yourself: The Inner Art of Giving and Receiving
"People need to connect and for many, religion isn't working. This spiritual longing is getting projected onto human relationships as people are looking for God in "other" before seeing "his" presence inside. This book is a beacon of light for those on this journey." —    Cindy Stanberry, Psychotherapist
About Tim O'Donnell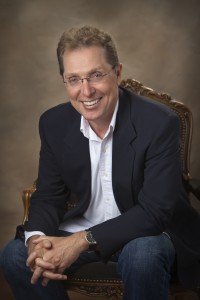 Tim O'Donnell retired from the business world at the age of forty after a successful business career that saw him rise from advertising sales to corporate executive, to become a highly sought after consultant and speaker and ultimately buying his own suburban daily newspaper publishing company. He earned distinction as a publisher and consultant for the advances in management and operational systems he introduced as many of O'Donnell's philosophies and methods became standards within the publishing world. He is considered by his clients and the industry at large as an agent of change.
O'Donnell sold his company and retreated for a time to the woods of Southeast Kansas to resume a quest for answers to questions that had been dogging him since his youth as a Catholic schoolboy in the suburbs of Chicago.
Tim O'Donnell received the quintessential Catholic education, attending Catholic grade school, high school and college. He now says: "I've been pummeled by nuns, cajoled by priests and humored by serious theologians as I tried continuously to satisfy questions I've always had about my native religion." His questions followed him to adulthood unanswered.
Until now.
Tim is married to Lynn, his wife of twenty-nine years. Tim and Lynn are the parents of three adult children who remain the center of their lives and doting owners of Blue and Bailey their dogs. They grew up in the Chicago area and currently make their home in Kansas City.
Connect with Tim on his website and on his blog.
Tim O'Donnell's TLC Book Tours TOUR STOPS:
Monday, February 28th:  Broken Teepee
Wednesday, March 2nd:  Colloquium
Thursday, March 3rd:  Evolving Beings
Monday, March 7th:  Pastoralia
Wednesday, March 9th:  Carol's Notebook
Thursday, March 10th:  Radiant Light
Monday, March 14th:  Random Thoughts of a Lutheran Geek
Tuesday, March 15th:  Why I Am Catholic
Wednesday, March 16th:  Regular Rumination
Friday, March 18th:  Reviews by Molly
Monday, March 21st:  Constantly Evolving
Tuesday, March 22nd:  Silver and Grace
Thursday, March 24th:  Quotidian Grace
Friday, March 25th:  The Church of No People – review, author Q&A, giveaway
Monday, March 28th:  The Book Faery Reviews
Tuesday, March 29th:  Ponderings on a Faith Journey
Wednesday, March 30th:  Arriving At Your Own Door