Introducing True Vows, a daring new series from HCI Books —   that will rock the romance world and redefine memoir forever. It's Reality-based, or RB Romance™ where the inspiration of each novel is ripped from the headlines and based on personal interviews with real couples whose love stories read like the best in romantic fiction. Esteemed authors Judith Arnold, Alison Kent, and Julie Leto are beloved story-tellers whose distinctive styles have won them large and loyal followings.  Readers trust them to deliver compelling, page-turning reads, and beginning this fall romance readers will not be disappointed. They will be captivated by the unexpected—an experience that transcends anything that's ever been offered in the genre before.
When fantasy meets reality anything can happen.  Believe it.  It's true.
"What better way is there to prove romance really exists than to read these books?" —Carly Phillips, New York Times bestselling author
"Memoir meets romance! In the twenty years I've been penning romances, this is one of the most novel and exciting ideas I've encountered in the genre. Take a Vow. It rocks!" —Tara Janzen, New York Times bestselling author of Loose and Easy
"An irresistible combination of romantic fantasy and reality that begins where our beloved romance novels end: TRUE VOWS.  What a scrumptious slice of life!"  -Suzanne Forster, New York Times bestselling author
"ATTENTION ROMANCE READERS: True Love Does Exist! And, you can now find it between the pages of a new series written by established romance authors." RT Reviews magazine
MEET ME IN MANHATTAN by Judith Arnold on tour in September 2010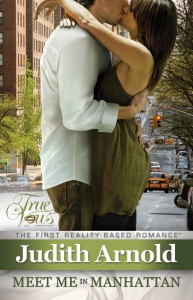 A classic love story told only as Judith Arnold can tell it—with a deep grasp of the complexities of the human heart and unforgettable tales of love lost and then unexpectedly found again.
Ted Skala and Erika Fredell were the perfect New Jersey high school sweethearts. Like many teens Ted and Erika spent plenty of time in parked cars under the stars, but there was so much more between them than the chemistry that ignited their courtship, and Ted couldn't imagine a life without Erika. By graduation he was ready to get engaged. Erika, however, was ready to spread her wings and faraway she flew to college. She broke his heart. She sailed the world.
Fast forward 15 years.  When fate intervenes and their paths cross, the result is emotionally explosive and that old black magic is back with the force of a super nova. But Erika once ravaged his heart: How can Ted ever trust her again? And now that he's seriously involved with another woman, how can Erika hope for a second chance with the man she never should have let go?
FREE download of the first chapter HERE!
HARD TO HOLD by Julie Leto on tour in October 2010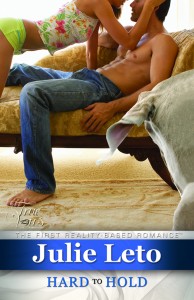 Bestselling author Julie Leto conjures a delicious romance that's as real and compelling as the couple whose remarkable story she tells.
New York lobbyist Michael Davoli feels like he's been sucker punched when he meets Anne Miller at a concert. When fate leads him to move into same Albany apartment building where Anne lives, Michael falls hard.  After all, Anne's hot, his dog likes her, and she's catnip to the senses after she picks a lock faster than Sydney Bristow can disarm a nuke.
Always fiercely independent, Anne's crackerjack reporting skills and keen intellect are no match for the chemical reaction she has to this man with electric blue eyes. But while Mike effortlessly holds her with his gaze, he withholds the embrace she longs for.  Why is he so distant? Has Anne misread his signals?  When he finally confesses that he suffers from a neurological disorder that he's learned to disguise from others but could keep him from ever holding her through the night—she makes a choice that changes the rest of her life.
Anne isn't about to let anything like Tourette's Syndrome keep her from the man of her dreams. But Mike has a second secret. Will this secret be the one that even a grand passion cannot survive?
With her trademark wit and sensual artistry, Julie Leto knocks this unforgettable romance out of the park and straight to the heart.  Based on the true love story between Mike Davoli and Anne Miller, Hard to Hold is a modern day fairy tale that proves that the best things in life—and in romance—are real.
FREE download of the first chapter HERE!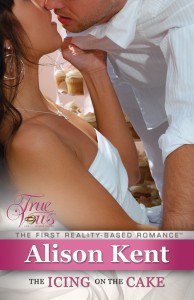 Alison Kent's cutting-edge style smartly takes the contemporary pulse of love and wraps it in timeless truths as she journeys into the open hearts and secret dreams of Michelle Snow and Todd Bracken.
Matchmaker, matchmaker, make me a match . . . dot com!  An on-line dating service is not Michelle Snow's idea of how to find love but when the Big 3-0 hits, Michelle decides she has nothing to lose since she hasn't brought a date home in ten years, she's professionally burned out, and her climb up the corporate ladder has come at the expense of abandoning her sweet dream: to own a boutique cupcakery.
Todd Bracken, early 30s and a successful technology consultant, isn't exactly a player after being off the market for ten years, and pours himself into his dual passions of martial arts and home-sweet-home renovations. Only there's no one to come home to so he decides to give Match.com a try. Todd isn't so sure the Internet dating scene is his thing—until a message pops up in the wee hours on a weekend night: "I like your smile." Todd likes—a lot—the whole package that glides into a French bistro in Washington, D.C.
It's serious mojo-at-first-sight but there's a glitch: Todd and Michelle live in different cities. Will love find its way in the digital age with a You've Got Mail courtship when video cam kisses just aren't enough? And when Todd challenges Michelle to not only go for her dream but let him share it, will they be able to make it happen together despite obstacles more plentiful than a shower of rainbow sprinkles?
FREE download of the first chapter HERE!
About the Authors:
Judith Arnold has written more than eighty-five novels with well over ten million copies in print worldwide. She has received numerousRomantic Times Reviewers Choice Awards andPublishers Weekly named her novel Love in Bloom's, one of the best books of the year. She has been a multiple finalist for Romance Writers of America's RITA and Lifetime Achievement Awards, and is the author of the ground-breaking, bestselling novel Barefoot in the Grass. Visit the author at www.juditharnold.com..
Julie Leto , a USA Today bestselling author, broke into the romance industry in 1998 and has since published over thirty-five novels.  She's been nominated for the coveted RITA award and her 2007 release, Stripped, was named Best Blaze by Romantic Times BOOKreviews. Visit the author at www.julieleto.com...
.Alison Kent , author of No Limits, a Cosmo Red Hot Read, has written over forty sexy, sassy contemporaries for Harlequin and action adventure suspense novels for Kensington. If there's a better career to be had, she doesn't want to know about it, as she's quite happy penning romantic tales from the backyard of her Texas home. Visit the author at www.alisonkent.com.
Find out more about TRUE VOWS on the website, on Facebook, and on Twitter.  You can even submit your own True Romance story!
Tour Stops for MEET ME IN MANHATTAN:
Monday, September 6th: Daydream Believer
Tuesday, September 7th: Trisha's Book Blog
Wednesday, September 8th: Tracy's Place
Thursday, September 9th: Babbling about Books, and More!
Monday, September 13th: Books Like Breathing
Thursday, September 16th: The Book Vixen
Friday, September 17th: Book Junkie
Monday, September 20th: The Romance Reviews
Wednesday, September 22nd: Simply Stacie
Thursday, September 23rd: Addicted to Romance
Friday, September 24th: The Bibliophilic Book Blog
Monday, September 27th: The Book Lush
Tuesday, September 28th: Enchanted by Books
Wednesday, September 29th: The Book Binge
.
Tour Stops for HARD TO HOLD:
Friday, October 1st: Tracy's Place
Monday, October 4th: Trisha's Book Blog
Tuesday, October 5th: Pearl's World of Romance
Wednesday, October 6th: Love to Read for Fun
Thursday, October 7th: Babbling about Books, and More!
Friday, October 8th:  Book Junkie
Monday, October 11th: Books Like Breathing
Tuesday, October 12th: The Book Lush
Wednesday, October 13th: Smexy Books
Thursday, October 14th: Daydream Believer
Friday, October 15th: Fiction Vixen
Monday, October 18th: Addicted to Romance
Wednesday, October 20th: The Book Binge
Thursday, October 21st: The Bibliophilic Book Blog
Reschedule- Date TBD: The Romance Reviews
Tuesday, October 19th:.
Tour Stops for THE ICING ON THE CAKE:
Monday, November 1st: Daydream Believer
Monday, November 1st: Books Like Breathing
Wednesday, November 3rd: The Book Binge
Wednesday, November 3rd: Tracy's Place
Thursday, November 4th: Babbling about Books, and More!

Friday, November 5th: JoJo's Book Corner
Monday, November 8th: Trisha's Book Blog
Tuesday, November 9th: Pearl's World of Romance
Wednesday, November 10th: Book Junkie
Thursday, November 11th: The Biblophilic Book Blog
Monday, November 15th: Pop Culture Junkie
Tuesday, November 16th: Simply Stacie
Wednesday, November 17th:  Enchanted by Books
Thursday, November 18th: The Book Lush
Monday, November 22nd:  The Romance Reviews