About The Recipe Club
• Paperback: 352 pages
• Publisher: Harper Paperbacks (September 21, 2010)
Loyalty, loss, and the ties that bind: These are the ingredients of The Recipe Club, a "novel cookbook" that combines an authentic story of friendship with more than eighty delicious recipes.
Lifelong friends Lilly and Val are united as much by their differences as by their similarities. In childhood, "LillyPad" and "ValPal" form an exclusive two-person club, writing intimate letters in which they share hopes, fears, deepest secrets . . . and recipes—from Lilly's "Lovelorn Lasagna" to Valerie's "Forgiveness Tapenade." The Recipe Club sustains Lilly and Val's bond across the decades: through the challenges of independence, the joys and heartbreaks of first love, and the emotional complexities of family relationships, identity, mortality, and goals deferred—until the fateful day when an act of kindness becomes an unforgivable betrayal.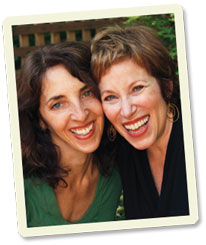 ANDREA ISRAEL (left) is a producer/writer for ABC's Focus Earth. She was a producer/writer for Anderson Cooper 360, Dateline, and Good Morning America (which garnered her an Emmy Award). Her story, "In Donald's Eyes," was optioned for a film. She is the author of Taking Tea, a guide to the history and ceremony of the drink. Her writing has appeared in many publications.
NANCY GARFINKEL (right) is co-author of The Wine Lover's Guide to the Wine Country: The Best of Napa, Sonoma, and Mendocino. A writer, design consultant, creative strategist, and editor for a wide range of magazine, corporate, and non-profit clients, she has won a host of graphic arts and editorial merit awards. She has written extensively about food and graphic arts.
Have fun at their website, www.therecipeclubbook.com.
Listen in when authors Nancy and Andrea are interviewed by Book Club Girl on Blog Talk Radio on Wednesday, November 3rd at 7:00pm ET!
Andrea and Nancy's TLC Book Tours TOUR STOPS
Wednesday, September 29th: Books Like Breathing
Thursday, September 30th: Bookstack
Tuesday, October 5th: Hospitable Pursuits
Wednesday, October 6th: Reviews from the Heart
Thursday, October 7th: Chaotic Compendiums
Monday, October 11th: Book Addiction
Tuesday, October 12th: Amused By Books
Wednesday, October 13th: Tales of a Capricious Reader
Thursday, October 14th: In the Next Room
Tuesday, October 19th: Chefdruck Musings
Wednesday, October 20th: Book Reviews by Molly
Wednesday, October 27th: Bloggin' 'Bout Books