Mildly autistic and dangerously disconnected from life, Robin Easton was reborn in the Australian rainforest.
In the deepest recesses of the forest, far from everything that was modern and familiar, Robin and her husband, Ian, pitched camp.  As Robin began to explore her new environment, she searched the ground for the things she feared: snakes, spiders, leeches, scorpions, and ticks. If she wanted to stay alive, she had to be as acutely aware as all the rest of life in the forest.  She had re-entered the food chain and no longer could bungle along unconsciously like she'd done all her life.
Once Robin recognized her own need to survive, she realized that in the web of life no one can afford the luxury of unconsciousness. She began to confront her fear of other species and started to thrive in the rainforest.  Wallabies, birds, and bandicoots befriended her, and her bare feet and sun-kissed body shared paths with foot-long centipedes, leeches, and deadly snakes.  By stripping off all the baggage of Western insulated life, and plunging naked into the wild in every sense, Robin found healing. In doing so, she recaptured her birthright–and ours–and reclaimed her place as a part of the collective expression of life. Her moving journey will help others reestablish their forgotten connection to the natural world, allowing them to survive and then thrive in relationship with the earth. In a time when our own wild voices are becoming as extinct as our wild brethren, Robin shows us that when we remember our own wildness we can value all wilderness.
"Naked in Eden is an amazing presentation of life in the most rigorous
conditions of nature, evoking that sense of wonder needed for the maximal
appreciation of the planet and the cosmos." ~ Thomas Berry, Ph.D.
Visit the Naked in Eden website HERE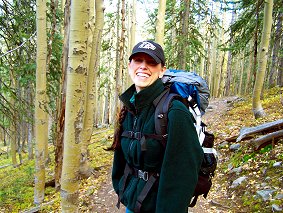 At the age of twenty-five Easton walked away from society.  She left the United States and went to live with her husband in the remote tropical Daintree Rainforest of Queensland, Australia. One of Robin's most remarkable rainforest experiences was the gift of music.  During her last year in the rainforests of Australia she began to dream beautiful music.  When she returned to the United States she sat at a piano and played as if she'd played for ten years.
Unable to read music, Robin has performed and recorded on both the east and west coasts.  She's produced and published her own piano solo album, all from her original dream music.
Robin's story has been told on an award-winning NBC News affiliate piece, Paul Harvey News, KBLA Radio, KSFR and others.  She's appeared in magazines and newspapers throughout the U.S. and Canada.   She blogs at: nakedineden.com.
Connect with Robin:
On her blog
On Twitter
Robin Easton's TLC Book Tours TOUR STOPS:
Tuesday, September 7th:  Luxury Reading
Thursday, September 9th:  Scraps of Life
Tuesday, September 14th:  Rundpinne
Wednesday, September 15th:  A Nut in a Nutshell
Thursday, September 16th:  Amy Reads
Monday, September 20th:  Book Club Classics
Monday, September 20th:  not that you asked
Tuesday, September 21st:  Overstuffed
Wednesday, September 22nd:  Amy's Creative Side
Thursday, September 23rd:  Simply Stacie
Monday, September 27th:  Age 30+  A Lifetime of Books
Monday, September 27th:  Capricious Reader
Tuesday, September 28th:  Book Chatter