About Once in a Blue Moon
Paperback: 336 pages
Publisher: Vanguard Press (July 27, 2010)
While she was growing up, twelve-year-old Lindsay had to look after three-year-old Kerrie Ann. When their mother was arrested and imprisoned for drugs, the girls entered foster care.
Nearly thirty years later, Lindsay owns a bookstore in the California seaside town of Blue Moon Bay. Adopted by a loving couple, she's still trying to reconnect with her long-lost sister. Unbeknownst to her, Kerrie Ann has led a very different life, bounced from one foster home to the next. Now, newly sober, Kerrie Ann is fighting to regain custody of her own little girl.
When the sisters are finally reunited, the two very different women clash. As Lindsay and Kerrie Ann engage in the fiercest battles of their lives—while each embarks on a journey of the heart with the unlikeliest of men—they are drawn together.
Check out the Reading Group Guide for Once in a Blue Moon HERE
Read an excerpt HERE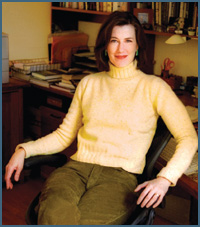 A native of northern California who now lives in Manhattan, Eileen Goudge is the New York Times bestselling author of 15 novels including Woman in Red and The Diary, 32 young adult novels, numerous short stories and magazine articles and one cookbook. When she isn't writing, Goudge enjoys baking for friends and neighbors.
Connect with Eileen:
On her Website
On her Blog
On Twitter
On Facebook
Read more about her in this Author Q & A
Eileen Goudge's TLC Book Tours TOUR STOPS:
Monday, August 2nd:  Rundpinne
Wednesday, August 4th:  Luxury Reading
Monday, August 9th:  Simply Stacie
Wednesday, August 11th:  S. Krishna's Books
Monday, August 16th:  Susie QT Pie's Scraps of Life
Wednesday, August 25th:  Book Club Classics
Thursday, August 26th:  Book Addiction
Friday, August 27th:  Bellas Novella
Saturday, September 11th:   Chick Lit Club
Monday, September 13th:  Ask Miss A
Wednesday, October 6th:  SheKnows