Paperback: 336 pages
Publisher: Forge Books (June 8, 2010)
Fifteen-year-old Sara and her beautiful sister, Rachel, are too young to legally drive a car—but are approaching spinsterhood in Utah's secret polygamist Blood of the Lamb community. Having long since reached the "age of preparedness," they will soon be married off to much older men selected by the hidden sect's revered Prophet.
As Sara, chosen to become her uncle's fifth wife, grows more distraught over her impending incestuous marriage, she begins to scrutinize the faith she has followed blindly her entire life.
But for Rachel, who will be married to one of the many powerful community leaders vying for her hand, disobeying the Prophet means eternal damnation. Her friendship with the newest member of the community, the young and handsome Luke, starts as an attempt to save his agnostic soul, but ends with the pair falling helplessly in love. When Rachel is forbidden to see him, her absolute faith in the Prophet is severely tested.
When Rachel's future husband is finally announced, violence erupts, and the girls must find the strength to escape the only life they have ever known…before it's too late.
Book club discussion questions for Hidden Wives can be found HERE.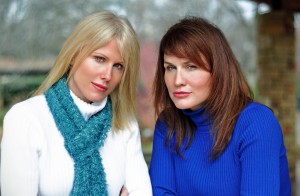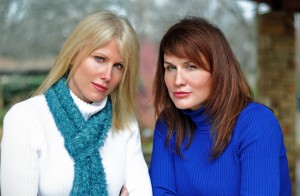 CLAIRE AVERY is a pseudonym for a writing team of two sisters.  Mari Hilburn, an attorney, and Michelle Poché, a screenwriter.
Being raised in a Mel-Gibson-Catholic-fundamentalist type of home was anything but ordinary.  Add in a little socialism, a healthy dose of old fashioned guilt and a father who was so charismatic that you lost yourself in his dream, and you have all the necessary ingredients for a fiction writer's ideal childhood.  His charisma laid the foundation for a group that has since grown to thousands nationwide.  Growing up in this fundamentalist community provided us with a real-life cast of characters worthy of a John Irving novel.  This included Barefoot Guy, an ex-monk who went barefoot even in harsh Chicago winters as a reminder of Christ's sacrifice.  It wasn't until Barefoot Guy accompanied us on a ski trip, then stood outside in the snow proselytizing to other skiers sans the footwear, did we realize what an extremely weird childhood we had.
To further complicate the fragile eco-system of our brains, our father decided the world was ending.  This Yale-educated urbanite became convinced that to save us from imminent death, he needed to move his family and many others from the community to a rural, mountain commune out of state.  We built a bomb shelter and attempted to raise chickens and grow our own food in order to survive the forthcoming nuclear winter.   The collective disaster at living "off the land" eventually led to a mass exodus back to the Windy City, leaving only our family and a granola-eating survivalist (later becoming a Neo-Nazi who attempted to kill us by shooting out the bay windows of our home).
A strange childhood, but at least our father's religious dogma didn't force us to marry men five times our age.  We didn't have to give up our education, freedom or dreams.  And if one of us met the love of her life, she was free to marry him.  Most importantly, she wouldn't have to share her husband with sister-wives.
There was nothing in our childhood that even remotely resembled the lives of young girls being raised within polygamous cults in 21st century America.  Even though we grew up in a "cult" type environment, we were never subjected to the dehumanizing abuse that so many women and children living in polygamous communities endure in the name of religion.
Thankfully we left our childhoods behind, stronger as a result and empathetic to the individuals trapped in extreme circumstances like those portrayed in Hidden Wives.
Connect with the authors:
On their Website
On Facebook
On Twitter
Claire Avery's TLC Book Tours TOUR STOPS:
Friday, July 2nd:  Rundpinne
Monday, July 5th:  Luxury Reading
Tuesday, July 6th:  Novel Whore- Gabriella
Wednesday, July 7th:  Simply Stacie
Thursday, July 8th:  Trisha's Book Blog
Monday, July 12th:  Thoughts of an Evil Overlord
Tuesday, July 13th:  Bibliofreak
Wednesday, July 14th:  Book Club Classics
Thursday, July 15:  Crazy for Books
Friday, July 16th:  S. Krishna's Books
Monday, July 19th:  It's All About Books
Tuesday, July 20th:  All About {n}
Wednesday, July 21st:  Life in the Thumb
Monday, July 26th:  Scraps of Life
Wednesday, July 28th:  Stiletto Storytime
Thursday, July 29th:  Joyfully Retired
Friday, July 30th: She Reads and Reads