It's getting hot in here…
Tessa Dare's new romance trilogy is coming out this summer, and we are so excited!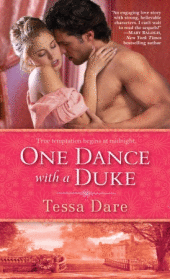 In One Dance with a Duke—the first novel in Tessa Dare's delightful new trilogy—secrets and scandals tempt the irresistible rogues of the Stud Club to gamble everything for love.
A handsome and reclusive horse breeder, Spencer Dumarque, the fourth Duke of Morland, is a member of the exclusive Stud Club, an organization so select it has only ten members—yet membership is attainable to anyone with luck. And Spencer has plenty of it, along with an obsession with a prize horse, a dark secret, and, now, a reputation as the dashing "Duke of Midnight." Each evening he selects one lady for a breathtaking midnight waltz. But none of the women catch his interest, and nobody ever bests the duke—until Lady Amelia d'Orsay tries her luck.
In a moment of desperation, the unconventional beauty claims the duke's dance and unwittingly steals his heart. When Amelia demands that Spencer forgive her scapegrace brother's debts, she never imagines that her game of wits and words will lead to breathless passion and a steamy proposal. Still, Spencer is a man of mystery, perhaps connected to the shocking murder of the Stud Club's founder. Will Amelia lose her heart in this reckless wager or win everlasting love?
Tuesday, June 1st: The Book Binge
Friday, June 5th:  Love, Romance, Passion
Monday, June 7th: Borders True Romance Blog
Tuesday, June 8th: Life of a Busy Wife
Monday, June 14th: Pop Culture Junkie
Tuesday, June 15th: Rundpinne
Thursday, June 17th: Book Junkie – interview and giveaway
Thursday, June 17th:  Book Junkie – review
Thursday, June 17th: Ticket to Anywhere
Monday, June 21st: Book-Lover Carol – guest post
Monday, June 21st:  Book-Lover Carol – review
Wednesday, June 23rd: Princess Bookie
Thursday, June 24th: Excess Baggage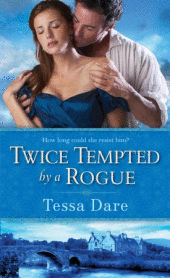 The daring members of the Stud Club are reckless gamblers and no strangers to risk—until love raises the stakes in Twice Tempted by a Rogue.

Luck is a double-edged sword for brooding war hero Rhys St. Maur. His death wish went unanswered on the battlefield, while fate allowed the murder of his good friend in the elite gentlemen's society known as the Stud Club. Out of options, Rhys returns to his ancestral home on the moors of Devonshire, expecting anything but a chance at redemption in the arms of a beautiful innkeeper who dares him to take on the demons of his past—and the sweet temptation of a woman's love.
Meredith Maddox believes in hard work, not fate, and romance isn't part of her plan. But when Rhys returns, battle-scarred, world-weary, and more dangerously attractive than ever, the lovely widow is torn between determination and desire. As a deep mystery and dangerous smugglers threaten much more than their passionate reckoning, Meredith discovers that she must trust everything to a wager her heart placed long ago.
Thursday, July 1st: Pop Culture Junkie
Tuesday, July 6th: The Book Binge
Thursday, July 8th: Rundpinne
Friday, July 9th: Simply Stacie
Wednesday, July 14th: Love, Romance, Passion
Wednesday, July 14th:  Love, Romance, Passion Author Interview
Wednesday, July 21st: Borders True Romance Blog
Friday, July 23rd: Laughing Through the Chaos
Monday, July 26th: The Cajun Book Lady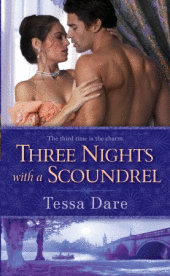 The men of the Stud Club live and play by their own rules—until passion changes the game.
The bastard son of a nobleman, Julian Bellamy is now polished to perfection, enthralling the ton with wit and charm while clandestinely plotting to ruin the lords, ravish the ladies, and have the last laugh on a society that once spurned him. But after meeting Leo Chatwick, a decent man and founder of an elite gentlemen's club, and Lily, Leo's enchanting sister, Julian reconsiders his wild ways. And when Leo's tragic murder demands that Julian hunt for justice, he vows to see the woman he secretly loves married to a man of her own class.
Lily, however, has a very different husband in mind. She's loved Julian forever, adores the man beneath the rakish façade, and wants to savor the delicious attraction they share—as his wife. His insistence on marrying her off only reinforces her intent to prove that he is the only man for her. Obsessed with catching a killer, Julian sinks back to the gutters of his youth, forcing Lily to reach out with a sweet, reckless passion Julian can't resist. Can her desire for a scoundrel save them both—or will dangerous secrets threaten more than their tender love
Monday, August 2nd: The Book Binge
Tuesday, August 3rd: Luxury Reading
Wednesday, August 4th: Babbling About Books, and More
Friday, August 6th: Borders True Romance Blog
Monday, August 9th: Pop Culture Junkie
Wednesday, August 11th: Rundpinne
Monday, August 16th: The Brain Lair
Wednesday, August 18th: The Book Faery
About Tessa Dare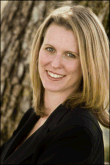 Tessa Dare a part-time librarian, full-time mommy, and swing-shift writer. She makes her home in Southern California, where she shares a cozy, cluttered bungalow with her husband, their two children, and a dog.
Connect with Tessa:
On her website
On Twitter
On Facebook