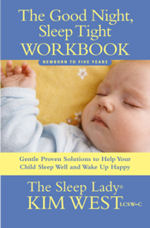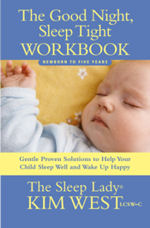 The perfect combination for guaranteed sleep success.
Good Night Sleep Tight Workbook is the essential companion to the best selling book, Good Night, Sleep Tight, by The Sleep Lady, Kim West. The workbook includes a step-by-step guide for parents, is organized by age and by process, and is the key to sleep coaching success. The Workbook includes an essential to do list, sleep plans, tear out sleep logs, sleep manner sticker charts, daily reminders and tips and a certificate of completion for celebrating success – all the essentials needed to help you achieve sleep success!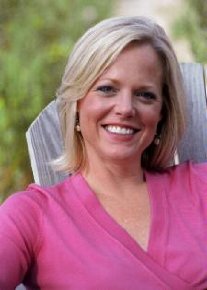 KIM WEST is a mother of two and a Licensed Certified Social Worker-Clinical (LCSW-C) who has been a practicing child and family social worker for more than sixteen years. Known as The Sleep Lady® by her clients, over the past twelve years she has helped thousands of tired parents all over the world learn to listen to their intuition, recognize their child's important cues and behaviors, and gently create changes that promote and preserve his or her healthy sleep habits.
West has appeared on the Dr. Phil, Today Show, NBC Nightly News, Good Morning America, TLC's Bringing Home Baby and CNN, and has been written about in a number of publications including The Wall Street Journal, Associated Press, Baby Talk, Parenting, The Baltimore Sun, USA Today, The Telegraph, The Irish Independent and the Washington Post. West hosts the sleep section of The Newborn Channel, played in maternity wards in hospitals across the country.
West has spoken to numerous parenting groups across the country about the importance of children's sleep and how togently teach your child to go to sleep and sleep through the night.
West is the author of "GOOD NIGHT, SLEEP TIGHT: The Sleep Lady's Gentle Guide to Helping Your Child Go to Sleep, Stay Asleep and Wake Up Happy" with co-author Joanne Kenen. Published by Vanguard Press in January 2005. She is also the author of "52 Sleep Secrets for Babies". Published by Easton Studio Press in November 2008.
Kim West received her master's degree in Clinical Social Work from Simmons College in Boston, Massachusetts. She lives with her family in Annapolis, Maryland.
Kim West's TLC Book Tours TOUR STOPS:
Monday, May 3rd:  Simply Stacie
Tuesday, May 4th:  Baby Dickey
Thursday, May 6th:  As the Forest[e] Grows
Monday, May 10th:  NOT Mommy of the Year
Wednesday, May 12th: The Daily Fuss
Thursday, May 13th:  Kristi Maristi
Monday, May 17th:  Red Headed Book Child
Wednesday, May 19th:  Devourer of Books
Thursday, May 20th:  Trapped Between a Scream and a Hug
Monday, May 24th:  Tales of a Capricious Reader
Tuesday, May 25th:  There's a Book