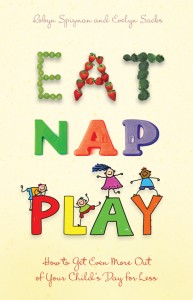 Rock Your Routine and Be the Happiest Mommy on the Block
Moms will concur—routines and creative ideas help your day and save your sanity. And once you've established a routine that works, the inclination is to stick with it until the kids are off to college. But sometimes the rigidity of a 'tight ship' doesn't allow much time for good-old fashioned, spur-of-the-moment fun. Well, hang on to your itinerary because here comes Eat, Nap, Play!
Written by moms for moms, this timely guide centers on back-to-basics philosophies: spend quality time with your kids and spend less money. But this is not a guilt trip—it's a fun-filled adventure. Jam-packed with clever, cost-effective, low-maintenance, often nostalgic ideas you can easily slip into your existing routine, Eat, Nap, Play shows you how to turn everyday mayhem into precious moments to build memories, foster growth, strengthen bonds, and just have fun.
Simple trips to the mall or grocery store transform into treasure troves of adventure
Beat boredom in unique and unexpected ways while in the car or on the go
Find out how to plan the perfect, age-appropriate parties for less
Get the most out of the latest technology and discover a ton of useful websites along the way
Plus, unearth cash-free ways for kids to learn, socialize, and grow into independent and resilient people
About the authors:

A woman of impressive literary and media accomplishments, Robyn Spizman is one of the leading how-to and inspirational voices in the gift-giving world.  As a New York Times bestselling author (August, 2008), she is the founder of www.TheGiftionary.com, a gift guide from a to z featuring a galaxy of gifts.  Robyn has written dozens of books and reports weekly on consumer topics, gifts and giving.  She has shared solid how-to tips for moms and creative gift-giving advice for almost three decades on many of America's leading talk shows, including repeated appearances on NBC's Today Show, MSNBC, CNN, Home Matters, The Discovery Channel, CNN Headline News, CNNfn, Talk Back Live, Good Day New York, New York One, CNBC and numerous ABC, NBC, CBS and Fox affiliates across the U.S.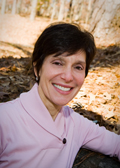 Evelyn Sacks is a born communicator who parlayed an early ability to write and speak clearly into a successful 35-year career.  The ghost writer of four works of nonfiction, she is an accomplished lifestyle and business writer who has worked for leading companies including Kimberly-Clark, Coca-Cola and Pfizer.  Whether she is writing on wellness, assisting a celebrity with an autobiographical memoir or crafting a speech for a Fortune 500 CEO, the goal is clean, convincing communication. She and Robyn Spizman have collaborated on a number of projects and enjoy sharing one another's gifts and talents.
TLC Book Tours TOUR STOPS for Eat, Nap, Play:
Monday, April 5th:  Simply Stacie
Monday, April 12th:  lit*chick
Tuesday, April 13th:  Red Headed Book Child
Thursday, April 15th:  Turning the Clock Back
Monday, April 19th:  Devourer of Books
Tuesday, April 20th:  The Activity Mom
Wednesday, April 21st:  There's a Book
Thursday, April 22nd:  Heir to Blair
Monday, April 26th:  Southern Institute of Domestic Arts & Crafts
Wednesday, April 28th:  It's a Crazy, Beautiful Life
Date TBD:  JDaniel4's Mom