Paperback: 352 pages
Publisher: Gotham; Reprint edition (April 6, 2010)
The instant New York Times bestseller, now in paperback: a moving tribute to female friendships, with the inspiring story of eleven girls and the ten women they became, from the coauthor of the million-copy bestseller The Last Lecture
As children, they formed a special bond, growing up in the small town of Ames, Iowa. As young women, they moved to eighth different states, yet they managed to maintain an extraordinary friendship that would carry them through college and careers, marriage and motherhood, dating and divorce, the death of a child, and the mysterious death of the eleventh member of their group. Capturing their remarkable story, The Girls from Ames is a testament to the enduring, deep bonds of women as they experience life's challenges, and the power of friendship to overcome even the most daunting odds.
The girls, now in their forties, have a lifetime of memories in common, some evocative of their generation and some that will resonate with any woman who has ever had a friend. The Girls from Ames demonstrates how close female relationships can shape every aspect of women's lives-their sense of themselves, their choice of men, their need for validation, their relationships with their mothers, their dreams for their daughters-and reveals how such friendships thrive, rewarding those who have committed to them. With both universal events and deeply personal moments, it's a book that every woman will relate to and be inspired by.
Check out the website for The Girls from Ames HERE.
Meet the girls and see all their photos HERE.
Read an excerpt HERE.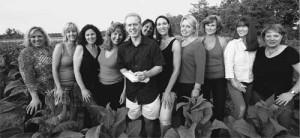 Coauthor of the international bestseller The Last Lecture, award-winning journalist Jeffrey Zaslow writes the Wall Street Journal's "Moving On" column, which has inspired several Oprah segments. He has also written for Time and USA Weekend.
Jeffrey Zaslow's TLC Book Tours TOUR STOPS:
Wednesday, April 14th:  Simply Stacie
Thursday, April 15th:  Silver and Grace
Friday, April 16th:  Chaotic Compendiums
Monday, April 19th:  Rundpinne
Tuesday, April 20th:  Luxury Reading
Wednesday, April 21st:  Book Nook Club
Thursday, April 22nd:  Suko's Notebook
Monday, April 26th:  Feminist Review
Wednesday, April 28th:  Bookworm with a View
Thursday, April 29th:  She Reads and Reads
Monday, May 3rd:  Cafe of Dreams
Tuesday, May 4th:  Janel's Jumble
Wednesday, May 5th:  Anniegirl1138
Thursday, May 6th:  Peeking Between the Pages
Tuesday, May 11th:  Life in the Thumb
Wednesday, May 12th:  lit*chick