Hardcover: 144 pages
Publisher: HCI (April 1, 2010)
Humiliated by his hoofed legs, the flies on his haunches, and the grass in his mouth, a bull named Etre tells his tender and thought-provoking story about the brutal insignificance of cow life at Gorwell Farm. In a world where the line between disgrace and dignity is drawn by a pasture fence, Etre finds himself alone in his awareness and utterly powerless to change his circumstances. The farmer and his men control everything–herding the cows from pasture to pasture, raising the sun in the morning, and taking it down at night. Etre searches for understanding among the broads, bulls, and calves on the pasture, but finds none. On the best of days, Etre listens to the farmer's boy sing lullabies at the fence. He likes those songs and loves the boy. But the grasses thin as the seasons pass, the cows hunger, and Etre grows desperate. He is the only cow truly starving.
About Sean Kenniff, M.D.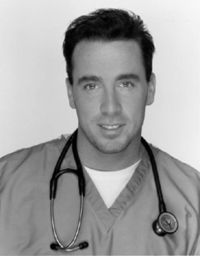 Sean Kenniff, M.D., is a neurologist, radio host, and television journalist who appeared as one of the original castaways in the hit CBS television reality series Survivor. He made the transition to network television journalism at CBS News where he developed a reputation for delivering practical but inspirational advice on health and emotional wellbeing. Kenniff has shared his expertise on several television programs including The Today Show, The O'Reilly Factor, Live! With Regis and Kelly, The CBS Early Show, The Howard Stern Show, Fox News, MSNBC, Extra!, Access Hollywood, Lifetime and many others. He is the creator of Healthapalooza.com, a health news website and he has appeared in video programming featured on WebMD. He hosts the popular radio program, the Dr. Sean Show, in South Florida.
Sean Kenniff's TLC Book Tours TOUR STOPS:
Thursday, April 1st: Books and Cooks
Thursday, April 8th: Bok Choy Bohemia – A Vegetarian Blog
Friday, April 9th: The Book Faery Reviews
Tuesday, April 13th: Have Cake, Will Travel
Monday, April 19th: Vegansaurus! Reschedule
Thursday, April 22nd: Rawdorable
Monday, April 26th: Vegan Crunk
Wednesday, April 28th: Haiku Tofu
Monday, May 3rd: Simply Stacie
Monday, May 3rd: Manifest: Vegan
Wednesday, May 19th: Rundpinne