It is a common refrain. Be it an impending retirement or the fear of growing older, many of us find ourselves asking "What Should I Do with the Rest of My Life?"
Bruce Frankel is not a neurologist. Nor is he gerontologist or social scientist. He is a baby boomer, who like many others, began questioning the second half of his life just as he was beginning it. A fateful lunch led him to investigate those people that did what many want to do – live their dreams and succeed in doing the improbable and the significant. In WHAT SHOULD I DO WITH THE REST OF MY LIFE, Bruce Frankel delivers intimate narratives that prove anything is possible.
A scientific revolution has been slowly brewing. The stereotypes of old age have been tossed aside and a groundswell of research has emerged, confirming that our brains and bodies can remain fit as we get older. We need only a goal to motivate and a little discipline to spark a new life. WHAT SHOULD I DO WITH THE REST OF MY LIFE shares inspiring tales of people who looked 60 in the face and realized it was only the beginning.
Frankel recounts the stories of a woman who was voted California Woman of the Year at age 73 for revitalizing her poverty stricken neighborhood and went on to become the oldest national park ranger at age 86. A man who spent thirty years grinding contact lenses has now chiseled 1,200 stone heads on a property known as "The Easter Island of the Hudson." We meet a man whose career in government intelligence was only a warm-up for a career in modern dance. And Margie, a housewife who at 60 began setting records in track and a therapist who became a documentary film maker after years in clinical practice.
Frankel explains, "The stories are not simply examples of successful aging, they are inspirational in the truest sense as they defy prejudice and misconceptions about age—and pursue unlikely passions with courage, creativity and discipline."
By feeding their passions, each of the characters in WHAT SHOULD I DO WITH THE REST OF MY LIFE? found a new lease on life As Frankel says in the book, "Age does not of itself limit or enable us. The choice is ours."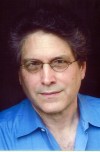 Bruce Frankel is a writer, reporter, and poet. He was co-author of the 2001 bestselling World War II: History's greatest Conflict in Pictures. He has been a senior staff writer and an editor for People magazine, a New York-based national reporter at USA Today, and a prizewinning columnist and investigative reporter for Gannett Westchester Newspapers. As a true testament to the message of What Should I Do With the Rest of My Life?, Frankel received an MFA in poetry from Sarah Lawrence College at age fifty-three and has published poems in the Los Angeles Review, Great River Review, BigCityLit.com, and Lumina. He lives in New York City.
Bruce Frankel's TLC Book Tours TOUR STOPS:
Monday, March 8th: Silver and Grace
Thursday, March 11th: A Garden Carried in My Pocket reschedule
Wednesday, March 17th: Truth 2 Being Fit
Thursday, March 18th: Patricia's Wisdom
Monday, March 22nd: Erasing the Bored
Tuesday, March 23rd: Jane Be Nimble
Wednesday, March 24th: Luxury Reading
Thursday, March 25th: Happy Lotus
Date TBD: Why Not Start Now?
Date TBD: The Jungle of Life