We're excited about Adriana Trigiani, and we want you to get excited about her as well, if you're not already!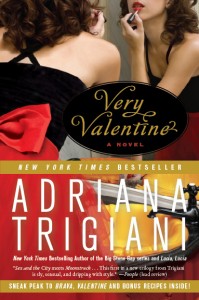 TLC Book Tours is partnering with HarperCollins to provide 5 bloggers with a chance to have tea with Adriana Trigiani during Book Expo America (BEA) in New York City in May 2010. You must already be attending BEA to participate. The tea will take place on Thursday, May 27, 2010 at a time to be determined at the gorgeous Alice's Tea Cup.
To enter to win, bloggers need to review/feature/blog about Very Valentine, the new paperback from Adriana Trigiani and Brava, Valentine, the new hardcover from Adriana Trigiani, between January 1, 2010 and March 31st, 2010 April 30, 2010, as well as post in your sidebar the I Heart Adriana Trigiani badge for that same time period.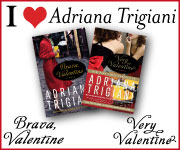 A copy of Very Valentine and Brava, Valentine will be provided to bloggers who wish to review the books in order to participate in this contest.
If you have already reviewed Very Valentine, you could do something else to announce that the paperback is on sale, such as:
run a giveaway – HarperCollins has generously provided up to 3 copies of the paperback per blog
talk about the new recipes inside
talk about the sneak peek to Brava, Valentine that's inside
post the Book Club Girl On Air Show with Adriana Trigiani about Very Valentine. Alternatively, you can participate in the Book Club Girl On Air Show and then blog about it!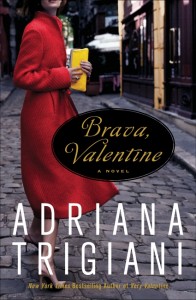 Information that you can include in your posts about Very Valentine and Brava Valentine includes:
Provide your readers with the links to browse inside to each of the books (Here's the link to Very Valentine. The link to Brava, Valentine, will be up shortly.)
Provide Adriana's Tour Schedule for the paperback and the hardcover
Participate in and post about Book Club Girl's On Air show with Adriana for Brava Valentine, which is taking place on March 31st at 7:00pm EST.
Link to this previous show with Adriana and Book Club Girl discussing Very Valentine
If you want to participate in this contest, please leave a comment on this post.
At the end of this contest, HarperCollins will randomly choose 5 participants to have tea with Adriana Trigiani. Winners will be announced on this site (TLC Book Tours), as well as www.bookclubgirl.com.
These rules can also be found at the HarperCollins website.
About Very Valentine
Poignant, funny, warm, and red hot, Very Valentine is a wonderful treat for Adriana Trigiani fans—a "delightful" (Boston Globe), "romance-soaked novel" (Marie Claire) from much adored playwright, screenwriter, documentary filmmaker, and New York Times bestselling author of Lucia, Lucia; Rococo; and Big Stone Gap. The adventures of an extraordinary and unforgettable woman as she attempts to rescue her family's struggling shoe business and find love at the same time, Very Valentine sweeps the reader from the streets of Manhattan to the picturesque hills of la bella Italia. Already a national bestseller and soon to be a Lifetime movie, here is a valentine from the incomparable Trigiani that you can take into your heart.
About Brava, Valentine
Award-winning playwright, television writer, and documentary filmmaker Adriana Trigiani returns with Brava, Valentine, continuing the heartwarming and hilarious story of Valentine Roncalli, her family, her love life, and the Angelini Shoe Company. Following on the heels of the New York Times bestseller Very Valentine (hailed by People magazine as "Sex and the City meets Moonstruck"), Brava, Valentine is another tour-de-force from the beloved author of bestselling novels Lucia, Lucia,  The Queen of the Big Time, and the Big Stone Gap series.