Bad credit happens to good people, but it doesn't have to ruin their lives. While there are many books about how to repair bad credit, there are exactly zero books about how to live with bad credit (the reality of more than 11.3 million Americans) and zero books about how to live well with bad credit. That's where Living Well with Bad Credit (HCI – January 2010) comes in.
It's a unique book that offers:
* Usable tips on how to embrace, and even benefit from, a low credit score
* Invaluable advice for dealing with 'lifestyle' events such as how to buy a
car or qualify for a credit card with bad credit
* Interviews with dozens of experts and successful professionals who
share ideas on how to live with the negative effects of bad credit
* Practical discussion on topics that go beyond finance, such as healing
self-esteem and building relationships in spite of bad credit.While bad credit can be a setback, it doesn't have to be
Visit the Living Well With Bad Credit website for more information.
About the authors:
Chris Balish is a bestselling author, and an on-air contributor for NBC's Today Show, MSNBC, and CNN.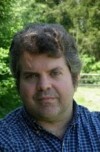 Geoff Williams writes daily for AOL's personal finance blog, WalletPop.com, as well as HGTV's real estate web site.
TLC Book Tours TOUR STOPS for Living Well With Bad Credit:
Wednesday, February 3rd:  Fiscal Geek
Thursday, February 4th:  Starting Fresh
Tuesday, February 9th:  Jessie's Money
Wednesday, February 10th:  The Centsible Life
Thursday, February 11th:  Enemy of Debt
Tuesday, February 16th:  My Journey to Millions
Wednesday, February 17th: My Next Buck
Thursday, February 18th:  Financial Samurai
Tuesday, February 23rd: Green Panda Treehouse
Wednesday, February 24th:  My Pretty Pennies
Thursday, February 25th:  Fiscal Fizzle
Date TBD:  Money Crashers