About The Good Daughter
• Hardcover: 528 pages
• Publisher: William Morrow (August 8, 2017)
The stunning new novel from the international #1 bestselling author — a searing, spellbinding blend of cold-case thriller and psychological suspense.
Two girls are forced into the woods at gunpoint. One runs for her life. One is left behind…
Twenty-eight years ago, Charlotte and Samantha Quinn's happy small-town family life was torn apart by a terrifying attack on their family home. It left their mother dead. It left their father — Pikeville's notorious defense attorney — devastated. And it left the family fractured beyond repair, consumed by secrets from that terrible night.
Twenty-eight years later, and Charlie has followed in her father's footsteps to become a lawyer herself — the ideal good daughter. But when violence comes to Pikeville again — and a shocking tragedy leaves the whole town traumatized — Charlie is plunged into a nightmare. Not only is she the first witness on the scene, but it's a case that unleashes the terrible memories she's spent so long trying to suppress. Because the shocking truth about the crime that destroyed her family nearly thirty years ago won't stay buried forever…
Packed with twists and turns, brimming with emotion and heart, The Good Daughter is fiction at its most thrilling.

Purchase Links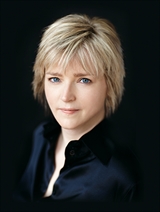 About Karin Slaughter
Karin Slaughter is one of the world's most popular and acclaimed storytellers. Published in 36 languages, with more than 35 million copies sold across the globe, her sixteen novels include the Grant County and Will Trent books, as well as the Edgar-nominated Cop Town and the instant New York Times bestselling novel Pretty Girls. A native of Georgia, Karin currently lives in Atlanta. Her Will Trent series, Grant County series, and standalone novel Cop Town are all in development for film and television.
Find out more about Karin at her website and connect with her on Facebook.
Tour Stops
Tuesday, August 22nd: No More Grumpy Bookseller
Wednesday, August 23rd: Read-Love-Blog
Thursday, August 24th: Readaholic Zone
Friday, August 25th: The Book Chick
Wednesday, August 30th: Mom's Small Victories
Thursday, August 31st: Cerebral Girl in a Redneck World
Monday, September 4th: Always With a Book
Tuesday, September 5th: Kritters Ramblings
Wednesday, September 6th: StephTheBookworm
Thursday, September 7th: Diary of a Stay at Home Mom
Monday, September 11th: she treads softly
Tuesday, September 12th: Kahakai Kitchen
Wednesday, September 13th: Booked on a Feeling