About Inheriting Edith
• Paperback: 320 pages
• Publisher: William Morrow Paperbacks (October 18, 2016)
A poignant breakout novel, for fans of J. Courtney Sullivan and Elin Hilderbrand, about a single mother who inherits a beautiful beach house with a caveat—she must take care of the ornery elderly woman who lives in it.
For years, Maggie Sheets has been an invisible hand in the glittering homes of wealthy New York City clients, scrubbing, dusting, mopping, and doing all she can to keep her head above water as a single mother. Everything changes when a former employer dies leaving Maggie a staggering inheritance. A house in Sag Harbor. The catch? It comes with an inhabitant: The deceased's eighty-two-year old mother Edith.
Edith has Alzheimer's—or so the doctors tell her—but she remembers exactly how her daughter Liza could light up a room, or bring dark clouds in her wake. And now Liza's gone, by her own hand, and Edith has been left—like a chaise or strand of pearls—to a poorly dressed young woman with a toddler in tow.
Maggie and Edith are both certain this arrangement will be an utter disaster. But as summer days wane, a tenuous bond forms, and Edith, who feels the urgency of her diagnosis, shares a secret that she's held close for five decades, launching Maggie on a mission that might just lead them each to what they are looking for.

Purchase Links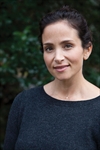 About Zoe Fishman
Zoe Fishman is the author of Driving Lessons, Saving Ruth, and Balancing Acts. Her books have been translated into German, Italian, Dutch and Polish. She's the recipient of many awards, including Target's Breakout and Emerging Author Picks, a New York Post Pick, and has been featured on NBC's "Atlanta & Co." as well as in Publishers Weekly and The Huffington Post. She is currently at work on her next novel, as well as teaching writing at The Callanwolde Fine Arts Center. Zoe lives in Atlanta with her husband and two sons.
Find out more about Zoe at her website, follow her on Twitter, and connect with her on Facebook.
Tour Stops
Sunday, October 16th: #redhead.with.book
Tuesday, October 18th: Satisfaction for Insatiable Readers
Thursday, October 20th: BookNAround
Monday, October 24th: Reading is My Super Power
Tuesday, October 25th: The Book Bag
Tuesday, November 1st: A Bookish Way of Life
Wednesday, November 2nd: bookchickdi
Thursday, November 3rd: Lesa's Book Critiques
Friday, November 4th: Books and Bindings
Monday, November 7th: Broken Teepee
Tuesday, November 8th: I'd Rather Be At The Beach
Wednesday, November 9th: she treads softly
Thursday, November 10th: A Chick Who Reads
Thursday, November 17th: Tina Says…
Friday, November 18th: Art @ Home
Tuesday, November 22nd: Kahakai Kitchen
Wednesday, November 30th: 5 Minutes For Books
Thursday, December 1st: Readaholic Zone