We've gathered up some delicious recipes and books to keep you warm over the holidays!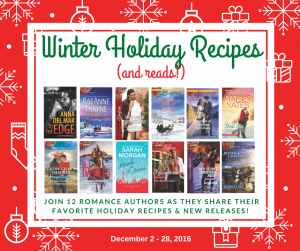 Each tour stop will feature a guest post from one of the fabulous authors listed below, plus a fun Rafflecopter giveaway.
Be sure to follow along!
___________________________________________
.
Publisher: Carina Press (November 14, 2016)
Publication Date: November 14, 2016
To learn about kink, she had to learn the ropes. Yet she never expected to be so compromised she'd need rescuing. And by him. The first man she'd ever loved. The former navy SEAL who'd broken her heart.
Purchase Links
Anna del Mar writes hot, smart romances that soothe the soul, challenge the mind, and satisfy the heart. Her stories focus on strong heroines struggling to find their place in the world and the brave, sexy, kickass, military heroes who defy the limits of their broken bodies to protect the women they love. She is the author of The Asset, the first novel of her Wounded Warrior series and three other novels scheduled for release during 2016. A Georgetown University graduate, she enjoys traveling, hiking, skiing, and the sea. Writing is her addiction, her drug of choice, and what she wants to do all the time. The extraordinary men and women she met during her years as a navy wife inspire the fabulous heroes and heroines at the center of her stories. When she stays put which doesn t happen very often she lives in Florida with her indulgent husband and two very opinionated cats.
Connect with Anna
___________________________________________
.
Mass Market Paperback: 384 pages
Publisher: HQN Books (September 27, 2016)
There's no place like Haven Point for the holidays, where the snow conspires to bring two wary hearts together for a Christmas to remember 
It's been two rough years since Andrea Montgomery lost her husband, and all she wants is for her children to enjoy their first Christmas in Haven Point. But then Andie's friend asks a favor—to keep an eye on her brother, Sheriff Marshall Bailey, who's recovering from a hit and run. Andie will do anything for Wyn, even park her own misgivings to check on her grouchy, wounded bear of a brother.
Marshall hates feeling defenseless and resents the protective impulses that Andie brings out in him. But when a blizzard forces them together for the holidays, something in Marshall begins to thaw. Andie's gentle nature is a salve, and her kids' excitement for the holidays makes him forget why he never wanted a family. If only he and Andie can admit what they really want—each other—their Christmas wishes might come true after all.
.


Purchase Links
.
The Holiday Gift by RaeAnne Thayne (Special edition)
Mass Market Paperback: 224 pages
Publisher: Harlequin (November 22, 2016)
A COWBOY FOR CHRISTMAS
With two kids and an active life, widow Faith Dustin only wants peace and quiet for Christmas. But her snowy Pine Gulch ranch is nothing but chaotic. All that keeps Faith going is her helpful neighbor, cowboy Chase Brannon. He's always been "good ol' Chase," her faithful friend. Until he kisses her under the mistletoe…
Years ago Chase blew his chance with the woman he's loved since childhood. Now he's determined to step out of the friend zone…and into the role of husband. But the scared and stubborn Faith won't let herself fall. With Christmas just days away, Chase will need all the magic of the season—and the help of her two matchmaking children—to unwrap a second chance at love.
Purchase Links
New York Times bestselling author RaeAnne Thayne finds inspiration in the beautiful northern Utah mountains where she lives with her family. Her books have won numerous honors, including six RITA Award nominations from Romance Writers of America and Career Achievement and Romance Pioneer awards from RT Book Reviews. She loves to hear from readers and can be reached through her website at www.raeannethayne.com.
Connect with RaeAnne
___________________________________________
.
Series: Harlequin Desire
Mass Market Paperback: 224 pages
Publisher: Harlequin Desire (December 6, 2016)
An upstairs-downstairs affair for Christmas…only from USA TODAY bestselling author Maureen Child!
 Single mom Joy Curran needs this temporary holiday housekeeping job working for a reclusive billionaire. But her sexy, aloof boss pulls at Joy's heartstrings—and her long-denied desires—in unexpected ways…
 Sam Henry never got over the loss of his wife and son, and he's shut himself off from happiness, love…and the holidays. But Joy and her sweet daughter bring laughter into his life. And living with his new maid ignites a passion he can't ignore. After one glorious night in Joy's arms, will this beauty be the Christmas miracle that changes the beast forever?

Purchase Links
Maureen Child is the author of more than 130 romance novels and novellas that routinely appear on bestseller lists and have won numerous awards, including the National Reader's Choice Award. A seven-time nominee for the prestigous RITA award from Romance Writers of America, one of her books was made into a CBS-TV movie called THE SOUL COLLECTER.  Maureen recently moved from California to the mountains of Utah and is trying to get used to snow.
Connect with Maureen
___________________________________________
.
Series: Love Inspired
Mass Market Paperback: 224 pages
Publisher: Love Inspired (October 18, 2016)
Holiday Greetings From Amish Country 
The Midwife's Christmas Surprise by Marta Perry 
Three years ago, the man Anna Zook hoped to marry left her and their Amish community for the English world. Now devoted to proving her abilities as a midwife, Anna has given up on marriage and children for herself. But when Benjamin Miller returns, now a changed man, can delivering a Christmas baby reunite these two hurting hearts?
A Christmas to Remember by Jo Ann Brown 
When a little girl leads shop owner Amos Stoltzfus to an Amish woman in distress, he rushes them to his family's farm. "Linda" has no memory and doesn't know if the sweet child is her daughter or even her kin. As Christmas arrives and Linda's identity is revealed, will Amos be able to claim his holiday guests as his own?
.


Purchase Links
Marta Perry realized she wanted to be a writer at age eight, when she read her first Nancy Drew novel. A lifetime spent in rural Pennsylvania and her own Pennsylvania Dutch roots led Marta to the books she writes now about the Amish. When she's not writing, Marta is active in the life of her church and enjoys traveling and spending time with her three children and six beautiful grandchildren.
Connect with Marta
Jo Ann Brown has published over 100 titles under a variety of pen names since selling her 1st book in 1987. A former military officer, she enjoys telling stories, taking pictures, and traveling. She has taught creative writing for more than 20 years and is always excited when one of her students sells a project. She has been married for more than 30 years and has three children. Currently she lives in Nevada. She enjoys hearing from her readers.
Connect with Jo Ann on her Website.
___________________________________________
.
Series: Alaskan Grooms
Mass Market Paperback: 224 pages
Publisher: Love Inspired (November 22, 2016)
A Season to Remember 
Two years after the avalanche everyone thought had claimed her life, Ruby Prescott returns to the remote Alaskan town of Love. And no one is more ecstatic than her husband, Liam, and their young son. Even if amnesia has robbed Ruby of her memories, she's soon woven back into the fabric of their lives. As they celebrate the holiday season, Ruby is falling head over heels for the man she's told was the love of her life. But she can't escape the feeling that there's something Liam is keeping a secret. Will the return of her memories tear them apart for good—or will this be a Christmas she'll never forget?
Purchase Links
Belle Calhoune lives in Connecticut with her college sweetheart husband and two daughters. After a thirteen year career as a Federal Investigator, she chose to pursue a  writing career.  An avid lover of romance novels since she was a teen, she enjoys writing love stories and reading them. She loves spending summers in beautiful Cape Cod and traveling to new places. A dog lover, she has a mini poodle and a chocolate lab. More than anything, she believes in happily ever afters.
Connect with Belle
___________________________________________
.
Series: Copper Ridge
Mass Market Paperback: 224 pages
Publisher: Harlequin (November 8, 2016)
Stranded with a cowboy for Christmas…from New York Times bestselling author Maisey Yates! 
Oil and water have nothing on Sam McCormack and Madison West. The wealthy rancher has never met a haughtier—or more appealing—woman in his life. And when they're snowed in, he's forced to admit this ice queen can scorch him with one touch…
Madison had plans for the weekend! Instead she's stranded with a man who drives her wild. A night of no-strings fun leaves both of them wanting more when they return to Copper Ridge. His proposal: twelve days of hot sex before Christmas! But will it ever be enough?
.


Purchase Links
New York Times Bestselling author Maisey Yates lives in rural Oregon with her three children and her husband, whose chiseled jaw and arresting features continue to make her swoon. She feels the epic trek she takes several times a day from her office to her coffee maker is a true example of her pioneer spirit.
Connect with Maisey
___________________________________________
.
Series: Texas Legacies: The Lockharts
Mass Market Paperback: 224 pages
Publisher: Harlequin (November 8, 2016)
A GIFT AS BIG AS TEXAS 
Molly Griffith is ambitious and only wants to give her little boy the opportunities she never had. Which means moving to Dallas, no matter what Chance Lockhart says! Though being with the handsome rancher does make the idea of small-town life more tempting…
Molly has always gotten under Chance's skin, and now that he's bonded with her little tyke, he can't imagine Bullhaven Ranch without them. But the single mom is so focused on her big-city fairy tale, she could miss Chance's offer of the most important gift of all—the love and support of a real family.


Purchase Links
Cathy Gillen Thacker is a popular Harlequin author of over one hundred novels.  Married and a mother of three, she and her husband resided in Texas for eighteen years, and now make their home in North Carolina.  Her mysteries, romantic comedies, and family stories have made numerous appearances on bestseller lists, but her best reward is knowing one of her books made someone's day a little brighter.
Connect with Cathy
___________________________________________
.
Series: Cardwell Cousins (Book 5)
Mass Market Paperback: 256 pages
Publisher: Harlequin (November 22, 2016)
A conman's daughter takes refuge with the family she never knew she had in New York Times bestseller B.J. Daniels's latest addition to the Cardwell family saga. 
Dee Anna Justice had thought that her convict father was her only living relative. Now Walter Justice, fearing for his daughter's safety, urges her to seek out her cousins in Montana. Calling in a decades-old debt, he also enlists private investigator Beau Tanner to protect her.
Despite their fiery attraction, she resents the bodyguard her dad foists on her. Trust doesn't come easy to DJ. But the warm, embracing family she finds at Cardwell ranch just might begin to soften her suspicious nature, and learning to trust the sexy PI may be the key to saving her life.
.


Purchase Links
New York Times and USA Today bestselling author B.J. Daniels lives in Montana with her husband, Parker, and three springer spaniels. When not writing, she quilts, boats and plays tennis.
Connect with B. J. Daniels
___________________________________________
.
Mass Market Paperback: 384 pages
Publisher: HQN Books (November 29, 2016)
It will take a Christmas miracle for two very different souls to find each other in this perfectly festive fairy tale of New York! 
Hopeless romantic Eva Jordan loves everything about Christmas. She might be spending the holidays alone this year, but when she's given an opportunity to house-sit a spectacular penthouse on Fifth Avenue, she leaps at the chance. What better place to celebrate than in snow-kissed Manhattan? What she didn't expect was to find the penthouse still occupied by its gorgeous—and mysterious—owner.
Bestselling crime writer Lucas Blade is having the nightmare before Christmas. With a deadline and the anniversary of his wife's death looming, he's isolated himself in his penthouse with only his grief for company. He wants no interruptions, no decorations and he certainly doesn't appreciate being distracted by his beautiful, bubbly new housekeeper. But when the blizzard of the century leaves Eva snowbound in his apartment, Lucas starts to open up to the magic she brings…This Christmas, is Lucas finally ready to trust that happily-ever-afters do exist?
.


Purchase Links
USA Today bestselling author Sarah Morgan writes lively, sexy contemporary stories for Harlequin.
Romantic Times has described her as 'a magician with words' and nominated her books for their Reviewer's Choice Awards and their 'Top Pick' slot. In 2012 Sarah received the prestigious RITA® Award from the Romance Writers of America. She lives near London with her family.
Connect with Sarah
___________________________________________
.
Series: Men at Work
Mass Market Paperback: 224 pages
Publisher: Harlequin (November 22, 2016)
Hard as steel…and hotter still! 
Never mess with a woman who carries a blowtorch in her backpack. Welder and artist Veronica "Flash" Redding's playful sense of evil sometimes gets the better of her. Like when her insanely handsome, wealthy, suited-up boss gave her the most sensuously wicked night of her life…then dumped her. Yep, revenge is a dish best served hot.
Only Ian Asher isn't letting Flash get away quite so easily. He's not ready to forget the intensity between them. The searing heat when they touch. And the deliciously demanding control Ian wields in the bedroom. Now he has only the holidays to convince Flash that they belong together…and that even the most exquisite, broken things can be welded back together.
.


Purchase Links
Tiffany Reisz is a multi-award winning and bestselling author. She lives on Mount Hood in Oregon in her secret volcanic lair with her husband, author Andrew Shaffer.
Connect with Tiffany
___________________________________________

.
Print Length: 288 pages
Publisher: Harlequin Romantic Suspense (December 1, 2016)
Can a former marine and an undercover cop crack a deadly Christmas case?
When a cult threatens the high school where he teaches, ex-marine Mitch Everlock is on the case. His priority: protecting his students. His world is rocked when one of his pupils, Nika Pasczenko, reveals she's an undercover police officer! But can the agent with secrets of his own trust his partner-in-crime?
The last thing Nika expected on this investigation was meeting a sexy veteran who makes her heart light up like a Christmas tree. But with both their lives at risk, and the students in danger, neither of them can afford the slightest distraction. Especially one as big as falling in love just as a killer closes in…
.


Purchase Links
Geri Krotow is a Naval Academy graduate and Navy veteran. She has traveled to and lived in many places abroad, including South America, Italy and Russia. Her family has finally settled down in Central Pennsylvannia but Geri still writes about all the places she's been. An award–winning author, Geri writes the Silver Valley PD for Harlequin Romantic Suspense.
Connect with Geri
___________________________________________
.
Series: Rookie K-9 Unit
Mass Market Paperback: 224 pages
Publisher: Love Inspired (December 6, 2016)
K-9 HOLIDAY RESCUE
Surviving Christmas by Valerie Hansen
When single dad Sean Murray returns from a war zone and discovers someone is following him, he turns to his old friend K-9 officer Zoe Trent for help. But as the threat escalates, can Zoe and her police dog find whoever is menacing Sean and his son…and make sure this Christmas isn't their last?
Holiday High Alert by Lenora Worth
After a cryptic note appears in the playground at Josie Callahan's daycare center, rookie K-9 officer Dalton West vows to protect Josie and the kids she loves—especially his daughter, Maisy. And with a stalker closing in, the widower and his four-legged partner are all that stand between Josie and a deadly Christmas.
.


Purchase Links
Valerie Hansen resides in the rural Ozarks where she writes the books of her heart, primarily for Love Inspired Romance and Suspense. She is married to her childhood sweetheart and has worked as a teacher's-aide, EMT, fire dept. dispatcher, dog breeder, commercial artist, dulcimer builder, Veterinarian's asst., 4-H leader, Sunday School teacher, antique restorer and certified Storm Spotter, etc.
Lenora Worth writes for Harlequin's Love Inspired and Superromance. Her books have won national and regional awards. Her Love Inspired Suspense Body of Evidence made the New York Times Bestseller List.With over 55 books published, she writes Southern stories set in places she loves such as Atlanta, Georgia, the North Georgia and Arkansas mountains, Texas and Louisiana, including Dallas and New Orleans. Lenora is married and has two grown children.
Connect with Lenora
___________________________________________
TLC Book Tours TOUR STOPS for Winter Holiday Recipes (+ reads!) from Harlequin:
Friday, December 2nd: From the TBR Pile – Anna Del Mar guest post
Monday, December 5th: All Roads Lead to the Kitchen – RaeAnne Thayne guest post
Wednesday, December 7th: Bewitched Bookworms – Maureen Child guest post
Friday, December 9th: – Reading Is My SuperPower – Marta Perry guest post
Monday, December 12th: Read Love Blog – Belle Calhoune guest post
Wednesday, December 14th: Reading Reality – Maisey Yates guest post
Friday, December 16th: Books and Spoons – Cathy Gilen Thacker guest post
Monday, December 19th: The Romance Dish – B. J. Daniels guest post
Wednesday, December 21st: Satisfaction for Insatiable Readers – Sarah Morgan guest post
Friday, December 23rd: Books a la Mode – Tiffany Reisz guest post
Monday, December 26th:Romantic Reads and Such – Geri Krowtow guest post
Wednesday, December 28th:  – The Sassy Bookster – Valerie Hansen & Lenora Worth guest post